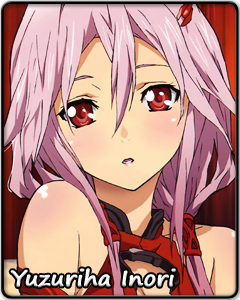 | | |
| --- | --- |
| Name: | Yuzuriha Inori 「楪いのり」 |
| Title Series: | Guilty Crown |
| Voiced by: | Kayano Ai |
Career ISML Performance
2012: 9th Place Nova Division. Record: (27-0-8)
2013: 8th Place Nova Division. Record: (28-0-7)
2013: 15th Place League Finals
2014:
2015:
2016:

Moe Tournament Résumé
2012: Animefans Saimoe Tournament - Round of 16
2012: Baidu Anime Saimoe Tournament - Round of 16
2012: Baidu Harem Moe - Round of 16
2012: Korean Best Moe - Round of 96
2013: Animefans Saimoe Tournament - Round of 16
2013: Baidu Harem Moe - Round of 32
2013: The Great Awwnime Bracket - Round of 256
2014: Best Girl Contest - Round of 128
2014: Hongkong Golden Saimoe - Round of 48
2015: Best Girl Contest - Round of 256
2015: Hongkong Golden Saimoe - Round of 48
2016: Best Girl Contest - Round of 512
2016: Hongkong Golden Saimoe - Round of 192

Yuzuriha Inori took on many roles. She was a container, a confidant, and a tool. She obediently did as she was told. But the one thing she always truly wanted was to become human.

She cannot understand the sadness and joy of those around her. She has never loved or hated. She was not taught about emotions. But her soul remembers. At times when the silver glow of the moon is her sole companion, Inori lets her voice weave a song. The melody coming from deep within her heart is Inori's comfort, proof that she is not empty inside.

But even if she is nothing more than a container, she can still take in the things around her and learn from them. Inori experiences trust and love and grasps onto those feelings. She will keep hold of them until she can understand what they mean and, one day, reciprocate them. Until that day comes, she will protect those few who were able to accept her for who she was.

There is nothing within her – no fear, and not a shred of hesitation.


Past Notable Matches

ISML 2012 Regular Season: (9th Place)
Ruby 5: 3355-3319 over Charlotte Dunois (IS <Infinite Stratos>)
Emerald 7: 3533-2956 over Kuroi Mato (Black ★ Rock Shooter)
Topaz 7: 3586-3368 over Victorique de Blois (GOSICK)

ISML 2013 Regular Season: (8th seed)
Amethyst 6: 3746-3657 over Chitanda Eru (Hyōka)
Emerald 3: 3561-3591 to Nyarlathotep (Haiyore! Nyaruko-san)

ISML 2013 League Finals: (15th seed)
Round of 16: 3693-6013 to Tachibana Kanade (Angel Beats!)