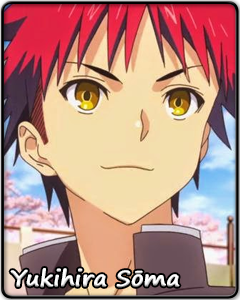 | | |
| --- | --- |
| Name: | Yukihira Sōma 「幸平創真」 |
| Title Series: | Shokugeki no Sōma |
| Voiced by: | Matsuoka Yoshitsugu |
Career ISML Performance

Moe Tournament Résumé

"Happy to serve!"

Cooking is a passion going from generation to generation in the Yukihira family, and Sōma is doing his best to reach the level of his father, the owner of a small but very popular typical Japanese restaurant. But after 489 challenges, and 489 defeats for Sōma, his father sends him to a Culinary Academy in order to sharpen his skills.

Sōma immediately understands that he i one of the best of the Academy and does not hesitate to claim it. However, in an Academy where all conflicts are resolved by cooking duels, his attitude often puts him in dangerous situations. But stronger than ever under pressure, Sōma tends to surprise everyone by preparing a dish no one even thought of.

Coming from a rather modest place compared to all the rich children from the school, Sōma is a friendly individual, always ready to help his friends, even if it means he needs to sacrifice something in exchange. Due to his joyful personality and charisma, his enemies tend to become his friendly rivals. The road to become a renowned chef is still long, but with all the bonds formed along the way, Sōma hopes to become one of the legends of the Academy and to face off again with his father... to win this time!


Past Notable Matches