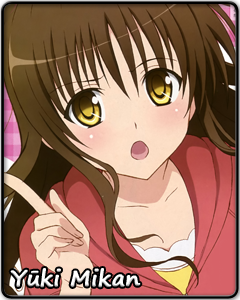 | | |
| --- | --- |
| Name: | Yūki Mikan 「結城美柑」 |
| Title Series: | To LOVE-Ru |
| Voiced by: | Hanazawa Kana |
Career ISML Performance
2013: 18th Place Nova Division. Record: (17-0-18)
2014: 17th Place Nova Division. Record: (17-0-18)

Moe Tournament Résumé
Group Final - Japan Saimoe 2008
Round 2 - Japan Saimoe 2009
Round 2 - Japan Saimoe 2010
Round 2 - Japan Saimoe 2011
Round 2 - Japan Saimoe 2013
Top 96 - Korea Best Moe 2009
Top 32 - Korea Best Moe 2011
Round 2 - Girls Bracket 2013
Round 2 - Best Girl Contest 2014

After school, most middle school students go out to have fun or attend their club activities. But Yūki Mikan has to make time to drop by the shopping mall and plan out what her family will eat for dinner that day.

With no guardian watching over her and her brother on a daily basis, Mikan learned to be mature and independent at a young age. From cooking for two to doing the laundry, Mikan can do just about any household chore by herself. However, when the members of her household suddenly increase in number, Mikan may need to wave a white flag for help every now and then.

Most people might think she is wasting her childhood, but Mikan does not mind this type of lifestyle. In fact, how can she not enjoy it when every day in her home is unique and special it its own little way? Observing her brother's love life, talking to his female peers, taking care of a humanoid flower, monitoring the behavior of her new house members – there are so many things to do around the house that Mikan is never bored.

Above all else, Mikan wishes to be doted on like any younger sister. It is the smallest things like being taken care of when sick or having a secret thank-you Christmas party with her family and friends that make her smile and realize that her hard work and effort are all worth it.


Past Notable Matches

ISML 2013 Regular Season: (18th place)
Aquamarine 1: 4776-4739 to Takanashi Tōka (Chūnibyō demo Koi ga Shitai!)
Aquamarine 4: 3957-3834 over Kirigaya Suguha (Sword Art Online)
Amethyst 5: 3780-3897 to Tōwa Erio (Denpa Onna to Seishun Otoko)
Ruby 1: 3872-3866 over Ayano Keiko (Silica) (Sword Art Online)

ISML 2014 Regular Season: (17th Place)
Ruby 3: 1967-2082 to Haqua du Lot Herminium (Kami nomi zo Shiru Sekai)
Emerald 2: 2081-2133 to Momo Belia Deviluke (To LOVE-Ru)
Emerlad 3: 2083-2037 over Kirigaya Suguha (Sword Art Online)
Topaz 5: 2001-1880 over Himeragi Yukina (Strike the Blood)
Topaz 6: 2083-1914 over Chocolat (NōKome)


Japan Saimoe 2008:
Group Finals: 884-1023 to Chiba Kirino (BAMBOO BLADE)

Girls Bracket 2013: (Round 2)
Round 2: 500-1159 to Gokō Ruri (Kuroneko) (Ore no Imōto)

Best Girl Contest 2014: (Round 2)
Round 2: 1206-3933 to Araragi Karen (Bakemonogatari)