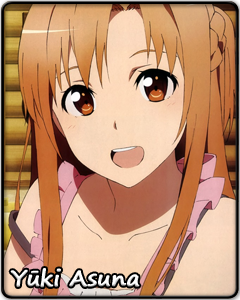 | | |
| --- | --- |
| Name: | Yūki Asuna 「結城明日奈」 |
| Title Series: | Sword Art Online |
| Voiced by: | Tomatsu Haruka |
Career ISML Performance
2013: 5th Place Nova Division. Record: (32-0-3)
2013: 7th Place League Finals
2013: Ruby Necklace Winner
2014: 4th Place Nova Division. Record: (32-0-3)
2014: 10th Place League Finals
2015:
2016:

Moe Tournament Résumé
2012: Baidu Nova Moe - Round of 16
2013: Anime Saimoe Tournament - Round of 48
2013: Animefans Saimoe Tournament - Semifinalist
2013: Baidu Harem Moe - Round of 16
2014: Anime Saimoe Tournament - Group Finalist
2014: Animefans Saimoe Tournament - 2nd Place
2014: Baidu Harem Moe - Round of 16
2014: Baidu Nova Moe - Round of 16
2014: Best Girl Contest 8
2015: Animefans Saimoe Tournament - 1st Place
2015: AnimeGirl Saimoe Tournament - 2nd Place
2015: Baidu Harem Moe - Round of 16
2015: Baidu Nova Moe - Round of 16
2015: Best Girl Contest - Round of 32
2015: Bilibili Moe - Semifinalist
2016: Baidu Harem Moe - Round of 16

Yūki Asuna was an ordinary fifteen-year-old girl with her own friends, life, and dreams. If there was anything that made her special, it was that she had no intention of giving up on those things, even if the forces trying to take them away were far beyond her.

When trapped in the digital world of a homicidal madman, Asuna needs little time to overcome the initial shock and set her mind to work on getting out of the virtual prison. One wrong move could cost Asuna her life, but she allows herself no hesitation. To her, every day spent living a lie is like a small death in itself. In order to keep moving forward, Asuna is ready to kill all fear, doubt, and weakness in her heart. And she expects nothing less from those who choose to walk be her side.

As days pass and turn into months, however, Asuna begins to notice that not everything around her is a lie. The people she meets, the experiences she has, and even the feelings she discovers, all of them can be invaluable even if the world around her is not real. If Asuna can accept those things and learn more about herself, her time of struggle will not have been in vain.


Past Notable Matches

ISML 2014 Regular Season: (4th Place)
Ruby 7: 2999-3050 to Kuroyukihime (Accel World)

ISML 2014 Championship: (10th Place)
Round of 16: 3827-2830 over Shana (Shakugan no Shana)
Quarterfinals: 3990-4045 to Shiina Mashiro (Sakura-sō no Pet na Kanojo)


Great Awwnime Bracket 2012: (Round 2)
Round 2: 525-1023 to Ikezawa Hanako (Katawa Shōjo)

Animefans Saimoe Tournament 2013: (Semifinalist)
Quarterfinals: (845 + 132)-(419 + 126) over Kurousagi (Mondaiji)
Semifinals: (1783 + 157)-(2544 + 162) to Lacus Clyne (Gundam Seed)

Girls Bracket 2013: (Round 5)
Round 5: 890-1159 to Shiina Mashiro (Sakura-sō no Pet na Kanojo)

Great Awwnime Bracket 2014: (Round 4)
Round 4: 399-438 to Hachikuji Mayoi (Bakemmonogatari)

Best Girl Contest 2014: (Quarterfinalist)
Quarterfinals: 4404-6751 to Holo (Spice and Wolf)

Anime Saimoe Tournament 2014: (Group Finalist)
Group Finals; 89-149 to Misaka Mikoto (Toaru Majutsu no Index)

Animefans Saimoe Tournament 2014: (2nd Place)
Quarterfinals: (512 + 237)-(224 + 203) over Kurousagi (Mondaiji)
Semifinals: (514 + 267)-(220 + 96) over Yukinoshita Yukino (OreGairu)
Finals (845 + 294)-(1854 + 410) to Misaka Mikoto (Toaru Majutsu no Index)