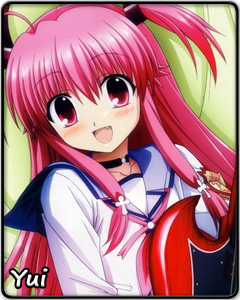 | | |
| --- | --- |
| Name: | Yui 「ユイ」 |
| Title Series: | Angel Beats! |
| Voiced by: | Kitamura Eri |
Career ISML Performance
2011: 11th Place. Record: (37-0-12) / (0-1)
2012: 4th Place Nova Division. Record: (32-0-3)
2012: 9th Place League Finals
2013: 11th Place Stella Division. Record: (25-0-10)
2014:
2015:
2016:

Moe Tournament Résumé
2010: Anime Saimoe Tournament - Group Finalist
2010: Baidu Anime Saimoe Tournament - Round of 16
2010: Korean Best Moe - 13th Place
2010: Korean Super Best Moe - Round of 128
2011: Anime Saimoe Tournament - Round of 96
2011: Animefans Saimoe Tournament - Round of 64
2011: Baidu Anime Saimoe Tournament - Round of 32
2011: Korean Best Moe - Round of 96
2012: The Great Awwnime Bracket - Semifinalist
2014: Best Girl Contest - Round of 64
2015: Baidu Nova Moe - Round of 64
2015: Best Girl Contest - Round of 128
2015: Bilibili Moe - Round of 128
2015: Senpuu Saimoe Tournament - Round of 96
2016: AnimeGirl Saimoe Tournament - Round of 32
2016: Best Girl Contest - Round of 256

What every battlefront needs is soldiers, weapons, tactics... and boisterous groupies?

Yui is a fine specimen of the modern TV teenager – she idolizes the stars she has seen on the screen, and her attention span is about as much as it takes to change the channel. Unlike your regular couch potato, however, Yui has the passion to chase after those dreams and make them come true... one by one. There are plenty to choose from, after all.

Yui's inexhaustible enthusiasm is as much her redeeming quality as it is her most insufferable trait. Full of self-confidence of inexplicable origin, Yui sets out to prove to everyone how dependable she is. No one is falling for that, though. Not with how she becomes a danger to her own safety just by walking down the stairs.

But small setbacks have no chance of getting Yui down. She has already endured greater hardship than anything life might still have left to throw at her. She will kick all troubles in the nuts and German suplex it into the ground, just like on TV.

Beware of the pink-haired ones.


Past Notable Matches

ISML 2011 Regular Season: (12th Seed)
Amethyst 6: 3191-3188 over Nakamura Yuri (Angel Beats!)

ISML 2011 Championship: (11th Place)
Round of 16: 3630-5418 to Shana (Shakugan no Shana)

ISML 2013 Regular Season: (11th Seed)
Ruby 1: 4119-4199 to Aragaki Ayase (Ore no Imōto)
Topaz 6: 4189-4235 to Shana (Shakugan no Shana)


Anime Saimoe Tournament 2010: (Group Finalist)
Group Finals: 143-701-666 to Shiina Mafuyu (Seitokai no Ichizon) & Senjōgahara Hitagi (Bakemonogatari)

Korean Best 2010: (13th Place)
Round of 16: 768-851 to Shirai Kuroko (Toaru Majutsu no Index)