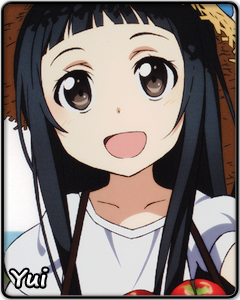 | | |
| --- | --- |
| Name: | Yui 「ユイ」 |
| Title Series: | Sword Art Online |
| Voiced by: | Itō Kanae |
Career ISML Performance
2013: 12th Place Nova Division. Record: (23-0-12)
2014: 23rd Place Nova Division. Record: (13-0-22)

Moe Tournament Résumé
Group Finalist - Great Awwmine Bracket 2012
Round 1 - Japan Saimoe 2013
Round of 64 - Animefans Saimoe Tournament 2013
Round 4 - Girls Bracket 2013
Round 2 - Best Girl Contest 2014
Round 1 - Japan Saimoe 2014
Round of 96 - Animefans Saimoe Tournament 2014

From the moment Yui first opened her eyes, she was different from other people. She did not need to eat, drink or sleep. She could see any place in the world whenever she so desired. She would never age or be wounded. She was special and she was alone.

But no matter how different she was, Yui had a deep understanding of the feelings of others. Her caring heart was what gave her life meaning and purpose: to become a light of hope to those in their darkest moments. If she could just devote herself to that mission, Yui might have forgotten about her loneliness. But when her existence is deemed unnecessary by those in power, Yui finds herself robbed of both freedom and purpose.

For Yui, to rebel against this injustice is to risk losing everything she is. But somebody who was allowed to feel cannot be a silent observer forever. And even if there are sacrifices to be made, there are also things for her to gain. Yui will experience the good and bad of this world so that one day she can cry her own tears and smile her own smile.


Past Notable Matches

ISML 2013 Regular Season: (12th Seed)
Aquamarine 4: 3988-3942 over Nyarlathotep (Haiyore! Nyaruko-san)
Ruby 5: 3413-3353 over Oshino Shinobu (Bakemonogatari)
Emerald 5: 3651-3601 over Roromiya Karuta (Inu x Boku SS)

ISML 2014 Regular Season: (23rd Place)
Amethyst 3: 2531-2591 to Kuriyama Mirai (Kyōkai no Kanata)
Amethyst 4: 2630-2498 over Dekomori Sanae (Chūnibyō demo Koi ga Shitai!)
Ruby 4: 2319-2301 over Shokuhō Misaki (Toaru Majutsu no Index)
Emerald 4: 2054-2189 to Momo Belia Deviluke (To LOVE-Ru)
Emerald 5: 2101-2066 over Tobiichi Origami (Date A Live)


Great Awwnime Bracket 2012: (Group Finalist)
Group Finals: 526-773 to Makise Kurisu (Steins;Gate)

Animefans Saimoe Tournament 2013: (Round of 64)
Round of 64: (515 + 8)-(936 + 40) to Takanashi Rikka (Chūnibyō demo Koi ga Shitai!)

Girls Bracket 2013: (Round 4)
Round 4: 655-1333 to Oshino Shinobu (Bakemonogatari)

Best Girl Contest 2014: (Round 2)
Round 2: 2650-2694 to Yin (Darker than Black)

Japan Saimoe 2014: (Round 1)
Round 1: 67-165-84 to Yukinoshita Yukino (OreGairu) & Amami Haruka (THE iDOLM@STER)

Animefans Saimoe Tournament 2014: (Round of 96)
Round of 96: (461 + 2)-(693 + 2)-(806 + 10) to Katsura Hinagiku (Hayate no Gotoku!) & Illyasviel von Einzbern (Fate/stay night)