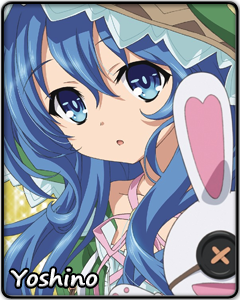 | | |
| --- | --- |
| Name: | Yoshino 「四糸乃」 |
| Title Series: | Date A Live |
| Voiced by: | Nomizu Iori |
Career ISML Performance
2014: 2nd Place Nova Division. Record: (34-0-1)
2014: 11th Place League Finals
2015: 7th Place Nova Division. Record: (29-0-6)
2015: 8th Place League Finals
2016:

Moe Tournament Résumé
2013: Anime Saimoe Tournament - Round of 16
2013: Baidu Nova Moe - Round of 48
2014: Anime Saimoe Tournament - Round of 20
2014: Animefans Saimoe Tournament - Round of 32
2014: Baidu Anime Saimoe Tournament - Round of 16
2014: Baidu Harem Moe - Semifinalist
2014: Baidu Nova Moe - Round of 32
2015: Animefans Saimoe Tournament - Round of 32
2015: Baidu Anime Saimoe Tournament - Round of 32
2015: Baidu Harem Moe - Round of 16
2015: Baidu Nova Moe - Round of 16
2015: Best Girl Contest - Round of 512
2015: Bilibili Moe - Round of 32
2016: Baidu Harem Moe - Round of 16
2016: Best Girl Contest - Round of 512
2016: The Great Awwnime Bracket - Round of 64

They called her "The Hermit." They called her a coward. But she did not care.

In fact, all Yoshino ever wanted was some peace and quiet in her life. However, with all those strange people with guns shooting at her, the only thing Yoshino can do is hop away to the next safe location. The last thing Yoshino wants is to fight with those people. She believes that, if she does not like to get hurt, the other side must probably feel the same. But if she cannot shrug them off, there is always the option of summoning her angel to freeze her opponents and then run away. That way, they cannot chase after her anymore, and she can be safe from their attacks...if only for a short time.

Yoshino does not mind being alone. But then again, she is never truly all on her own. Yoshino always wears a puppet glove over her left hand, which acts as her conversation partner whenever she desires company. The puppet symbolizes an alter ego, someone whom Yoshino aspires to become. While Yoshino is shy, reserved, and tends to keep things to herself, her puppet is rash, arrogant, and has no restraing on stating its opinion about other people.

Yoshino wants to become a little more outgoing, honest, and open about her opinion, but she cannot do that just by talking to a puppet. As it is, it might seem like she is overly reliant on her imaginary friend to speak out for her. Sadly, with everyone else she meets out to get her, she cannot practice talking to them either.

It might take a while, but Yoshino will find the right person to express her feelings to, one tiny bunny hop at a time.


Past Notable Matches

ISML 2014 Regular Season: (2nd Place)
Emerald 7: 3299-3237 over Tokisaki Kurumi (Date A Live)
Topaz 2: 2654-2483 over Tsutsukakushi Tsukiko (Hentai Ōji to Warawanai Neko.)

ISML 2014 Championship: (11th Place)
Round of 16: 3443-2931 over Misaka Mikoto (Toaru Majutsu no Index)
Quarterfinals: 4005-4031 to Aragaki Ayase (Ore no Imōto)

ISML 2015 Regular Season: (7nd Place)
Aquamarine 2: 2674-2749 to Sento Isuzu (Amagi Brilliant Park)
Topaz 2: 3171-3148 over Kirisaki Chitoge (Nisekoi)

ISML 2015 Championship: (8th Place)
Round of 16: 4896-2271 over Yuki Asuna (Sword Art Online)
Quarterfinals: 4511-4628 to Yukinoshita Yukino (OreGairu)


Girls Bracket 2013: (Round 1)
Round 1: 685-723 to Saten Ruiko (Toaru Kagaku no Railgun)

Anime Saimoe Tournament 2013: (Round 5)
Round 5: 82-187 to Sakaya Miki (Puella Magi Madoka ☆ Magica)

Great Awwnime Bracket 2014: (Round 2)
Round 2: 186-480 to Onodera Kosaki (Nisekoi)

Anime Saimoe Tournament 2014: (Round 2)
Round 2: 105-391 to Miyanaga Saki (Saki)

Animefans Saimoe Tournament 2014: (Round of 32)
Round of 32: (1335 + 47)-(1700 + 130) to Cagalli Yula Athha (Gundam Seed)

Animefans Saimoe Tournament 2015: (Round of 32)
Round of 32: (1391+49)-(1172+13) to Hiradaira Chisaki (Nagi no Asukara)

Best Girl Contest 2015: (Round 1)
Round 1: 1834-4752 to Isla (Plastic Memories)