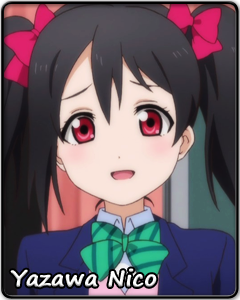 | | |
| --- | --- |
| Name: | Yazawa Nico 「矢澤 にこ」 |
| Title Series: | Love Live! |
| Voiced by: | Tokui Sora |
Career ISML Performance
2015: 32nd Place Nova Division. Record: (5-0-30)

Moe Tournament Résumé
2013: Anime Saimoe Tournament - Round of 104
2014: Anime Saimoe Tournament - Round of 64
2014: Baidu Nova Moe - Quarterfinalist
2014: Best Girl Contest - Round of 512
2014: The Great Awwnime Bracket - Round of 128
2014: Yamibo Yuri Saimoe - Quarterfinalist
2015: Baidu Anime Saimoe Tournament - Semifinalist
2015: Baidu Nova Moe - Round of 32
2015: Best Girl Contest - Round of 512
2015: Bilibili Moe - Round of 32
2015: Miss Anime Tournament - Semifinalist
2016: AnimeGirl Saimoe Tournament - Round of 32
2016: Best Girl Contest - Round of 256
2016: Hongkong Golden Saimoe - Round of 48
2016: The Great Awwnime Bracket - Round of 32
2016: Yamibo Yuri Saimoe - Round of 32

Nico Nico Nii~! Everyone's favorite fashionably adorable super-idol Yazawa Nico is ready to take on the ISML stage for all of her supporting fans and colleagues.

Life is not easy for an idol as great as her. Every day, she must disguise herself to avoid the paparazzi, gather information on current and potential upcoming rival idol groups, and work diligently to prevent her grades from failing. But, with the support of her fans, she is sure to make it through.

Unfortunately, Nico's glamorous tale could only last for so long. When Nico believed that she was about to see her work bear fruit, her companions started leaving her one by one, unable to keep up with her. Her fairy tale cut short, Nicto stopped trying to become an idol. And when a more successful unofficial idol group is created right under her nose, Nico refuses to acknowledge that they have what it takes to become the next top idol group... unless they ask her to advise them... and possibly join them.

Plucking up the courage necessary to try once more may be just a small step forward, but it might yet prove to be a giant leap towards her dreams.

It's time to Nico Nico Nii~!


Past Notable Matches

ISML 2015 Regular Season: (32nd Place)
Aquamarine 3: 2656-2694 to Miyazono Kaori (Shigatsu wa Kimi no Uso)
Aquamarine 7: 3687-3821 to Akame (Akame ga Kill!)
Ruby 7: 3026-2972 to Himeragi Yukina (Strike the Blood)


Best Girl Contest 2014: (Round 1)
Round 1: 1492-1768 to Kido Tsubomi (Mekakucity Actors)

Great Awwnime Bracket 2014: (Round 2)
Round 2: 304-348 to Rumiho Akiha (Steins;Gate)

Anime Saimoe Tournament 2014: (Round 1)
Round 1: 119-189-88 to Kazari Uihara (Toaru Kagaku no Railgun) & over Yamagishi Saki (Isshūkan Friends.)

Best Girl Contest 2015: (Round 1)
Round 1: 2295-4732 to Nagato Yuki (Suzumiya Haruhi no Yūutsu)