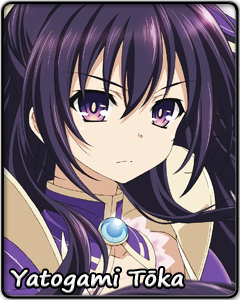 | | |
| --- | --- |
| Name: | Yatogami Tōka 「夜刀神十香」 |
| Title Series: | Date A Live |
| Voiced by: | Inoue Marina |
Career ISML Performance
2014: 9th Place Nova Division. Record: (27-0-8)
2015: 13th Place Nova Division. Record: (22-0-13)
2016:

Moe Tournament Résumé
2013: Anime Saimoe Tournament - Round of 288
2013: Baidu Nova Moe - Round of 16
2014: Anime Saimoe Tournament - Round of 20
2014: Baidu Anime Saimoe Tournament - Round of 64
2014: Baidu Harem Moe - Round of 64
2014: Baidu Nova Moe - Round of 32
2014: Best Girl Contest - Round of 256
2014: Hongkong Golden Saimoe - Round of 48
2014: Senpuu Saimoe Tournament - Round of 32
2015: Animefans Saimoe Tournament - Round of 64
2015: AnimeGirl Saimoe Tournament - Round of 64
2015: Baidu Harem Moe - Semifinalist
2015: Baidu Nova Moe - Round of 16
2015: Bilibili Moe - Round of 32
2016: Baidu Harem Moe - Semifinalist
2016: Best Girl Contest - Round of 512

Her power is immeasurable. Her pride is unshakeable. Her stomach is a bottomless pit.

Not knowing why she came to this world, Yatogami Tōka's only option was to fight whoever tried to attack or capture her. Defeat is not in her dictionary, and she will do anything necessary to retain the freedom to move around without supervision. As someone who can cut mountains and brush away an army of people with just a swing of her sword, Tōka has no problem revealing how dominant she can be. If all people on this planet choose warfare as their preferred mode of communication, Tōka can easily play by their rules.

Beyond her sheer strength, Tōka is just a girl who is curious about the world around her and hungry for knowledge. If given the opportunity to freely explore her surroundings, Tōka would act like a small child. Almost everything about Japanese entertainment and customs pleases her to no end. The one thing she enjoys most is eating delicious food, especially those dishes that she had never encountered before. When those around her shower her with kindness, Tōka allows herself to believe that not all humans are creatures who only know how to fight.

Tōka is a great ally to have during a fight and a good friend to just hang around with. However, those who try to harm her friends should prepare themselves for the fight of their life. After all, Tōka does not know how to hold back when it comes to saving a friend in need.


Past Notable Matches

ISML 2014 Regular Season: (9th Place)
Aquamarine 2: 3920-3870 over Tsutsukakushi Tsukiko (Hentai Ōji to Warawanai Neko.)
Topaz 2: 2553-2536 over Aoyama Nanami (Sakura-sō no Pet na Kanojo)

ISML 2015 Regular Season: (7th Place)
Ruby 2: 2540-2614 to Miyazono Kaori (Shigatsu wa Kimi no Uso)
Ruby 5: 2577-2506 over Onodera Kosaki (Nisekoi)
Ruby 7: 3183-3156 over Stephanie Dola (No Game No Life)
Topa 3: 3773-3674 over Ayase Eli (Love Live!)


Girls Bracket 2013: (Round 1)
Round 1: 575-661 to Makishima Saori (Ore no Imōto)

Japan Saimoe 2013: (Round 1)
Round 1: 98-148-63 to Shokuhō Misaki (Toaru Majutsu no Index) & over Takamiya Nasuno (Tēkyū)

Great Awwnime Bracket 2014: (Round 1)
Round 1: 243-392 to Yuigahama Yui (OreGairu)

Best Girl Contest 2014: (Round 2)
Round 2: 1990-2307 to Yonomori Kobeni (Mikakunin de Shinkōkei)

Japan Saimoe 2014: (Round 2)
Round 2: 100-260 to Tomoe Mami (Puella Magi Madoka ☆ Magica)

Animefans Saimoe Tournament 2014: (Round of 144)
Round of 144: (452)-(1049)-(669+13) to Yoshino (Date A Live) & Konjiki no Yami (To LOVE-Ru)

Animefans Saimoe Tournament 2015: (Round of 64)
Round of 64: (362+5)-(531+26) to Tōjō Nozomi (Love Live!)

Best Girl Contest 2015: (Round 1)
Round 1: 2864-3394 to Kobori (Amagi Brilliant Park)