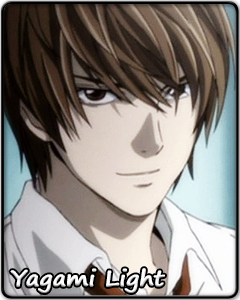 | | |
| --- | --- |
| Name: | Yagami Light 「夜神月」 |
| Title Series: | Death Note |
| Voiced by: | Miyano Mamoru |
Career ISML Performance

Moe Tournament Résumé

"This world is rotten, and those who are making it rot deserve to die. Someone has to do it, so why not me?"

Frustrated by the lack of justice in the world, Yagami Light (Kira) decided this world cannot continue on its own part anymore. With the Death Note dropped by shinigami Ryuk, Light can finally free the world from those who made it rotten. However, his revolution soon catches the attention of law-enforcement, and so begins the battle between Light and those who consider Kira a merciless murderer.

As Light continues on the path he chose, recreating the world becomes the only thing remaining on his mind. This means Light is willing to get rid of anyone, even his closest comrade, just so he can live on to continue his revolution to the final moment. Is this Yagami Light the true savior, or just pure evil? Nobody can fully explain.

Be prepared for Yagami Light – God of the new world – a true strategist with amazing deductive skill as well as acting prowess.


Past Notable Matches