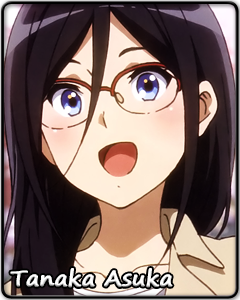 | | |
| --- | --- |
| Name: | Tanaka Asuka |
| Title Series: | Hibike! Euphonium |
| Voiced by: | |
Career ISML Performance
First year of participation

Moe Tournament Résumé
2015: Best Girl Contest - Round of 128
2015: Senpuu Saimoe Tournament - Round of 32
2015: Yamibo Yuri Saimoe - Round of 96
2016: Best Girl Contest - Round of 256
2016: Hongkong Golden Saimoe - Round of 48
2016: Senpuu Saimoe Tournament - Round of 288

"Why do you waste your time acting young instead of training?"

Just by looking into the music room, it is easy to recognize her. Her cheerful personality makes her stand out more than all the other members of the Brass Band Club. One may first think that she is the kind of person to fool around and prefer having fun with her friends rather than work. However, nothing may be more important to her than having her euphonium on her laps and practicing with her instrument. She would even joke about her euphonium as her boyfriend... or was it a joke?

Asuka's bright personality is a gift for the club, and her motivation is contagious. Everyone thought she would be the perfect club president; however, she refused the offer and became vice president instead. No need to lose time with administration when she could play instead! However, she totally deserves her role of drum major of the band, leading the marching band during contests, as she is one of the best musicians.

The black haired girl can easily switch between her funny and her serious persona depending on the situation. However, when someone asks her opinion on a personal matter, she tends to avoid the question. It is not easy to understand what Asuka may think or what she is hiding behind her small joyful smile. Of course, her friends are important to her, and she will not hesitate to help them... but if they can find the answer by themselves, it is much better!

Her way to perfection may be filled with fun, and she stops every now and then to make a joke, but her eyes are kept fixated towards the end of the way, the place where her goal awaits. Perfection may be unreachable, but she will try her best anyway.


Past Notable Matches