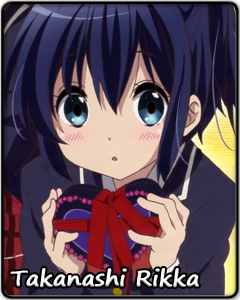 | | |
| --- | --- |
| Name: | Takanashi Rikka 「小鳥遊六花」 |
| Title Series: | Chūnibyō demo Koi ga Shitai! |
| Voiced by: | Uchida Maaya |
Career ISML Performance
2013: 2nd Place Nova Division. Record: (34-0-1)
2013: 9th Place League Finals
2013: Emerald Necklace Winner
2014: 6th Place Nova Division. Record: (30-0-5)
2014: 16th Place League Finals
2015:
2016:

Moe Tournament Résumé
2012: Baidu Nova Moe - 1st Place
2012: The Great Awwnime Bracket - 1st Place
2013: Anime Saimoe Tournament - Round of 24
2013: Animefans Saimoe Tournament - 2nd Place
2013: Baidu Anime Saimoe Tournament - 2nd Place
2013: Baidu Harem Moe - Quarterfinalist
2014: Anime Saimoe Tournament - Round of 20
2014: AnimeGirl Saimoe Tournament - Quarterfinalist
2014: Baidu Harem Moe - Quarterfinalist
2014: Best Girl Contest - Round of 64
2014: Hongkong Golden Saimoe - Quarterfinalist
2015: Baidu Harem Moe - Round of 16
2015: Best Girl Contest - Round of 64
2016: AnimeGirl Saimoe Tournament - 2nd Place
2016: Baidu Harem Moe - Round of 32
2016: Hongkong Golden Saimoe - Quarterfinalist

What the mortal eye sees is a mundane, tranquil world. What the Wicked Eye sees is a vast, exotic land filled with extraordinary ideas and concepts, and the only one who can see this is the wielder of the Wicked Eye herself: Takanashi Rikka.

A bicycle turns into a motorbike that travels at mach speed. An umbrella turns into a gun-blade twice Rikka's size. A spice rack in a grocery store is a laboratory filled with strange, mystical potions. These are some of the things that only Rikka can see.

As much of a gift as the Wicked Eye is, it is also a curse. Because she is the only one who can see this, no one is able to understand her or realize what she is going through. She walks alone in this mystic realm with no one to call a friend, no one to consider a companion, no one to go back to as a guardian.

Yet, Rikka continues to search for the Ethereal Horizon, a realm where she can be herself, where she can find the true peace she has always longed for. If the path to that place is filled with thorns, then so be it.


Past Notable Matches

ISML 2013 Regular Season: (2nd Seed)
Topaz 7: 4574-4447 over Hasegawa Kobato (Boku wa Tomodachi ga Sukunai)
Ruby 7: 4035-3939 over Kuroyukihime (Accel World)

ISML 2013 Championship: (9th Place)
Round of 16: 4643-5614 to Aragaki Ayase (Ore no Imōto)

ISML 2014 Regular Season: (6th Place)
Amethyst 6: 3055-2883 over Aoyama Nanami (Sakura-sō no Pet na Kanojo)
Emerald 6: 2238-2297 to Tsutsukakushi Tsukiko (Hentai Ōji to Warawanai Neko.)
Topaz 7: 3799-3843 to Itsuka Kotori (Date A Live)

ISML 2014 Championship: (16th Place)
Round of 16: 2532-4145 to Tachibana Kanade (Angel Beats!)


Great Awwnime Bracket 2012: (1st place)
Quarterfinals: 1163-457 over Ika Musume (Shinryaku! Ika Musume)
Semifinals: 931-778 over Aisaka Taiga (Toradora!)
Finals: 881-636 over Hirasawa Yui (K-On!)

Animefans Saimoe Tournament 2013: (2nd Place)
Quarterfinals: (587 + 120)-(384 + 25) over Hakurei Reimu (Tōhō Project)
Semifinals: (957 + 160)-(569 + 162) over Okinawa Tsurara (Nurarihyon no Mago)
Finals: (5390 + 210)-(5802 + 212) to Lacus Clyne (Gundam Seed)

Best Girl Contest 2014: (Round 4)
Round 4: 2448-4739 to Aisaka Taiga (Toradora!)

Anime Saimoe Tournment 2014: (Round 1)
Round 1: 138-167-25 to Sonoda Umi (Love Live!) & over Naruse Yuu (Watamote)

Animefans Saimoe 2014: (Round of 32)
Round of 32: (428 + 96)-(978 + 39) to Itsuka Kotori