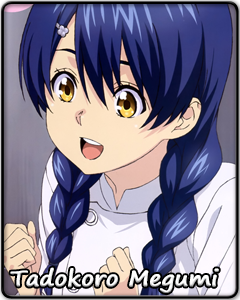 | | |
| --- | --- |
| Name: | Tadokoro Megumi |
| Title Series: | Shokugeki no Sōma |
| Voiced by: | |
Career ISML Performance
2016:

Moe Tournament Résumé
2015: Best Girl Contest - Quarterfinalist
2015: Bilibili Moe - Round of 128
2015: Senpuu Saimoe Tournament - Round of 16
2016: Best Girl Contest – 2nd Place
2016: Senpuu Saimoe Tournament - Quarterfinalist
2016: The Great Awwnime Bracket - Round of 256

They called her a failure. They called her useless. They tried to boo her out of the academy, but Tadokoro Megumi cannot leave.

To help her village out, Megumi decided to take a risk and move to the city with a culinary academy said to produce the greatest of chefs. Unfortunately, Megumi has not had the best of luck. Nearly failing every class and not specialized in any particular style, Megumi worries that she may go home empty-handed. With her professors feeling disappointed at her, Megumi is more afraid of not reaching the expectations of her family than failing her next, and possibly final, class.

An encounter with an enigmatic classmate taught her there is more to her cooking that meets the eye. While she may not specialize in any cooking style, what she can sell is her sense of hospitality, the ability to soothe anyone's day with the comfort of her dishes. Her cooking provides warmth only those with the kindest of hands and good intentions can create. With each bite, the most genuine of smiles can be seen spread between her and her customers.

With the confidence that her cooking can make a difference in someone's life, Megumi puts on her chef attire once more. With her smile loaded with kindness, Megumi prepares for her next challenge.


Past Notable Matches