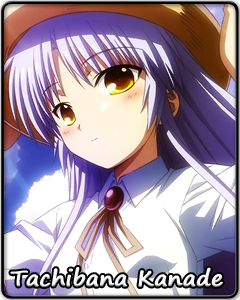 | | |
| --- | --- |
| Name: | Tachibana Kanade 「立華かなで」 |
| Title Series: | Angel Beats! |
| Voiced by: | Hanazawa Kana |
Career ISML Performance
2011: 3rd Place. Record: (49-0-0) / (2-1)
2011: Topaz Necklace Winner
2012: 1st Place Nova Division. Record: (35-0-0)
2012: Aquamarine Necklace Winner
2012: Sapphire Circlet Winner
2012: Tiara Winner
2013: 2nd Place Stella Division. Record: (33-0-2)
2013: 2nd Place League Finals
2013: Aquamarine Necklace Winner
2013: Diamond Circlet Winner

Moe Tournament Résumé
Group Finalist - Japan Saimoe 2010
2nd Place - Korea Best Moe 2010
Group Finalist - Japan Saimoe 2011
Top 96 - Korea Best Moe 2011

They all came to that world for something that they had been denied – all except for one girl.

Tachibana Kanade came to wait for a meeting which may never come. Caring, if slightly clueless, she tries to find her own place among the troubled people of the new world. Little does she know that it will be impossible for her to make friends here, at least as long as she genuinely cares about them...

Months pass, and Kanade is still waiting. She is president of the gardening club, and the sole remaining member. She is student council president, and all alone in her duty. Through days filled with solitude, Kanade never stops helping others pick up the broken pieces, even at the cost of countless painful partings.

As another day of trial draws to a close, Kanade sits alone at a dining table, a plate of her favorite mapo tofu in front of her. The taste will not erase the pain of bullet wounds or the memories of the harsh words thrown at her by those she wished to help. But it will give her the strength to remain firm in her resolution and do the right thing yet again.

After all, she is not merely waiting.


Past Notable Matches

Japan Saimoe 2010: (Group Finalist)
Group Finals: 670-748-62 to Yamada Aoi (WORKING!!) & over Tsukuyomi Komoe (Toaru Majutsu no Index)

Korean Best Moe 2010: (2nd Place)
Round of 16: 1043-582 over Sakurano Kurimu (Seitokai no Ichizon)
Quarterfinals: 909-837 over Fujibayashi Kyō (CLANNAD)
Semifinals: 1397-1168 over Hirasawa Yui (K-ON!)
Finals: 2398-2546 to Akiyama Mio (K-ON!)


Japan Saimoe 2011: (Group Finalist)
Group Finals: 323-377 to Erica Hartmann (Strike Witches)

ISML 2011 Championship: (3rd Place)
Round of 16: 6107-2900 over Sengoku Nadeko (Bakemonogatari)
Quarterfinals: 6442-4130 over Katsura Hinagiku (Hayate no Gotoku!)
Semifinals: 6929-7624 to Shana (Shakugan no Shana)

ISML 2013 Regular Season: (2nd Seed)
Topaz 7: 4764-4798 to Gokō Ruri (Kuroneko) (Ore no Imōto)

ISML 2013 Championship: (2nd Place)
Round of 16: 6013-3693 over Yuzuriha Inori (Guilty Crown)
Quarterfinals: 7656-4276 over Kuroyukihime (Accel World)
Semifinals: 8254-6060 over Misaka Mikoto (Toaru Majutsu no Index)
Final: 7234-8343 to Gokō Ruri (Kuroneko) (Ore no Imōto)