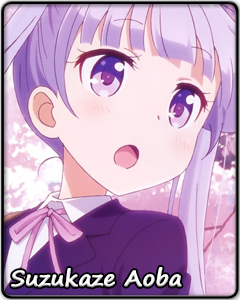 | | |
| --- | --- |
| Name: | Suzukaze Aoba |
| Title Series: | NEW GAME! |
| Voiced by: | Takada Yuuki |
Career ISML Performance
First year of participation

Moe Tournament Résumé
2016: Yamibo Yuri Saimoe - Round of 96

Aoba may still look childish even at the age of 18, but it is now time for her to enter the workforce! She is ready to make use of the skills she learned in high school as a proud employee of the company that produced her favorite video game! She even gets the opportunity to work on the sequel to this game under her favorite character designer. One of her dreams came true, but it comes with a large book detailing the basics of 3D character design.

Due to her cheerful and earnest personality, Aoba has no problems fitting in to this new environment and earning the respect of her colleagues. She easily makes friends even with a very shy co-worker, and the switch from studies to actual work is not a problem. Aoba may be a beginner, but makes up for her lack of skill and experience with hard work and passion, soon becoming one of the key character designers for the game the team is working on.

Because of her appearance, one might think she is a middle schooler… and her childish demeanor outside of the workplace surely doesn't help to dispell that impression. Luckily, Aoba can count on her childhood friend, an overexcited girl who is always ready to have fun. Aoba talks to her friend about her work with eager pride, but she is also happy to just spend the weekend together. Because work is not everything!


Past Notable Matches