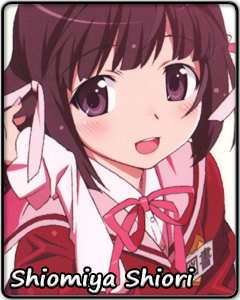 | | |
| --- | --- |
| Name: | Shiomiya Shiori 「汐宮栞」 |
| Title Series: | Kami nomi zo Shiru Sekai |
| Voiced by: | Hanazawa Kana |
Career ISML Performance
2012: 25th Place Nova Division. Record: (10-0-25)
2014: 34th Place Nova Division. Record: (3-0-32)

Moe Tournament Résumé
Round 1 - Japan Saimoe 2011
Round of 64 - Animefans Saimoe Tournament 2011
Round 4 - Great Awwnime Bracket 2012
Round 3 - Girls Bracket 2013
Round 3 - Great Awwnime Bracket 2014
Round 3 - Best Girl Contest 2014

When they say "Don't judge a book by its cover," they mean that the quiet librarian who never stands up for herself might very well be secretly preparing a military campaign to occupy the library building. Her food rations are no more than what she bought for lunch, but the strength of her ideals is unmatched.

Shiomiya Shiori would be more than happy if she could discuss those ideals with her would-be opponents. She would tell them all about books. And by books she means love, time, glory, sacrifice, space, friendship and life. The problem is, she is usually too nervous to start any kind of conversation or even respond to questions when addressed. If she could just write the answer out instead...

This is not to say that Shiori is unaware of her shortcoming in terms of communication skills or unwilling to expend effort on improving herself. Every day, she works hard to take an 'aggressive' stance towards the delinquents breaking library rules. Sometimes, she even manages to open her mouth to berate them. What words come out is a different matter altogether.

Shiori is as elusive as a true library fairy, but will she ever gather the courage to leave her enchanted fortress?


Past Notable Matches

ISML 2014 Regular Season: (34th Place)
Aquamarine 1: 3650-3671 to Shokuhō Misaki (Toaru Majutsu no Index)
Amethyst 2: 2481-2375 over Yukihira Furano (NōKome)
Amethyst 3: 2350-2300 over Roromiya Karuta (Inu × Boku SS)
Ruby 2: 2124-2125 to Natsume Rin (Little Busters!)
Ruby 3: 1920-2070 to Charlotte Belew (Machine-Doll wa Kizutsukanai)
Topaz 2: 2205-2353 to Nōmi Kudryavka (Little Busters!)


Animefans Saimoe Tournament 2011: (Round of 64)
Round of 64: (196)-(285 + 9) to Akemi Homura (Puella Magi Madoka ☆ Magica)

Great Awwnime Bracket 2012: (Round 4)
Round 4: 566-651 to Senjōgahara Hitagi (Bakemonogatari)

Girls Bracket 2013: (Round 3)
Round 3: 601-1211 to Tsutsukakushi Tsukiko (Hentai Ōji to Warawanai Neko.)

Great Awwnime Bracket 2014: (Round 3)
Round 3: 336-366 to Asada "Sinon" Shino (Sword Art Online)

Best Girl Contest 2014: (Round 3)
Round 3: 2086-4448 to Stephanie Dora (No Game No Life)