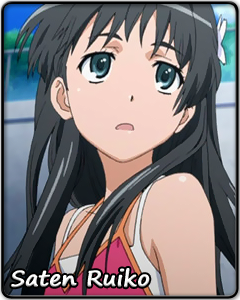 | | |
| --- | --- |
| Name: | Saten Ruiko 「佐天涙子」 |
| Title Series: | Toaru Kagaku no Railgun |
| Voiced by: | Itō Kanae |
Career ISML Performance
2010: 35th Place. Record: (15-0-34)

Moe Tournament Résumé
2010: Anime Saimoe Tournament - Quarterfinalist
2010: Animefans Saimoe Tournament - Round of 64
2010: Korean Best Moe - Round of 96
2010: Korean Super Best Moe - Round of 64
2011: Anime Saimoe Tournament - Round of 96
2011: Animefans Saimoe Tournament - Round of 16
2011: Baidu Anime Saimoe Tournament - Semifinalist
2011: Korean Best Moe - Semifinalist
2013: Anime Saimoe Tournament - Round of 104
2013: Baidu Nova Moe - Round of 48
2014: Anime Saimoe Tournament - Round of 64
2014: Animefans Saimoe Tournament - Round of 32
2014: Baidu Anime Saimoe Tournament - Quarterfinalist
2014: Yamibo Yuri Saimoe - Round of 16
2015: Best Girl Contest - Round of 256
2016: Best Girl Contest - Round of 256

The girl facing the everyday reality of a power-obsessed society with no extraordinary gift of her own.

Young Ruiko took the opportunity to become part of the world's first ESPer training program with a heart full of hope and a chest bursting with pride. She plunged into the special curriculum designed to make students capable of altering reality and worked hard to discover her individual power. The final assessment of her capacity was like a death sentence: level zero, completely powerless.

Ruiko attends school, jokes around with her friends, and flashes everyone a brave smile. She does her best not to think about how the people surrounding her seem to be getting further and further away as their abilities grow stronger. She challenges the impenetrable wall of her limitations again and again. With all her strength, she tries to convince herself that Academy City is a world in which she belongs.

But regardless of her worries, what Ruiko has that others don't is a courageous and uncorrupted heart. She possesses the strength to stand up against those oppressing the weak, even if she herself is even weaker. She does not hesitate to put herself in harm's way if it means saving others. Illusions of status, wealth, and power do not cloud her judgment of people's hearts.

Saten Ruiko has something she needs to prove. She is sure to stumble along the difficult path, but nothing can keep her down for long. After all, just as she supports others, her friends are there to support her.


Past Notable Matches

ISML 2010 Regular Season: (35th Place)
Sapphire 1: 2354-2324 over Ibuki Fūko (Clannad)
Sapphire 3: 1990-1973 over Konjiki no Yami (To Love-Ru)