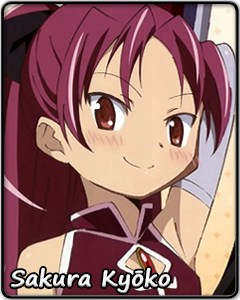 | | |
| --- | --- |
| Name: | Sakura Kyōko 「佐倉杏子」 |
| Title Series: | Puella Magi Madoka ☆ Magica |
| Voiced by: | Nonaka Ai |
Career ISML Performance
2012: 35th Place Nova Division. Record: (2-0-33)
2016:

Moe Tournament Résumé
2011: Anime Saimoe Tournament - 2nd Place
2011: Animefans Saimoe Tournament - Round of 64
2011: Korean Best Moe - 5th Place
2012: Animefans Saimoe Tournament - Round of 64
2013: Anime Saimoe Tournament - Semifinalist
2013: Baidu Nova Moe - Semifinalist
2014: Anime Saimoe Tournament - Quarterfinalist
2014: Animefans Saimoe Tournament - Round of 64
2014: Baidu Anime Saimoe Tournament - Semifinalist
2014: Best Girl Contest - Round of 128
2014: Senpuu Saimoe Tournament - Round of 16
2015: Animefans Saimoe Tournament - Round of 32
2015: Best Girl Contest - Round of 128
2016: Best Girl Contest - Round of 128
2016: Hongkong Golden Saimoe - Round of 48
2016: The Great Awwnime Bracket - Round of 128

Everything man does in this world, he does unto himself. All justice is without reward, every sin without punishment. The strength to grab something equals the right to possess it.

Sakura Kyōko wants to believe that to be true. Hope and ideals have already betrayed her, so she chooses to believe in despair. Life is the survival of the fittest, and Kyōko is strong enough to take its challenge head on. Alone, with neither reward nor salvation in sight, she blends in with the darkness of night like a red mirage.

Having given up on all attachments, Kyōko's heart allows her only one last desire. She wants to prevent others from making the same mistakes she did and learning the harsh truth about this world the hard way. Kyōko has seen enough carnage to grow used to it, but cannot bear the thought of it coming about by naive love.

The whim of a cruel fate throws Kyōko into a battle against the dreams and ideals of her past self, the only opponent she had never fully overcome. But Kyōko will not turn back – the path forward is the only way she has left.

She takes another step towards the unknown, spear in her hands, prayer in her heart.


Past Notable Matches

Anime Saimoe Tournament 2011: (2nd Place)
Group Finals: 428-250 over Index L. Prohibitorum (Toaru Majutsu no Index)
Quarterfinals: 657-568 to Gokō Ruri (Ore no Imōto)
Semifinals: 509-344 over Erica Hartmann (Strike Witches)
Final: 435-512 to Tomoe Mami (Puella Magi Madoka ☆ Magica)

Korea Best Moe 2011: (5th Place)
Round of 16: 223-143 over Nymph (Sora no Otoshimono)
Quarterfinals: 305-322 to Saten Ruiko (Toaru Majutsu no Index)