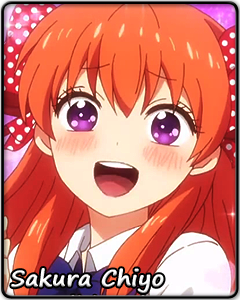 | | |
| --- | --- |
| Name: | Sakura Chiyo 「佐倉 千代」 |
| Title Series: | Gekkan Shōjo Nozaki-kun |
| Voiced by: | Ozawa Ari |
Career ISML Performance
2015: 1st Place Nova Division. Record: (34-0-1)
2015: 5th Place League Finals
2016:

Moe Tournament Résumé
2014: Baidu Nova Moe - Round of 64
2014: Best Girl Contest - Round of 128
2014: The Great Awwnime Bracket - Group Finalist
2015: Animefans Saimoe Tournament - Round of 32
2015: Baidu Anime Saimoe Tournament - Round of 16
2015: Baidu Harem Moe - Round of 32
2015: Baidu Nova Moe - Round of 16
2015: Best Girl Contest - Round of 16
2015: Bilibili Moe - Semifinalist
2015: Miss Anime Tournament - Quarterfinalist
2015: Ore no Saimoe – 1st Place
2015: Senpuu Saimoe Tournament – 1st Place
2016: AnimeGirl Saimoe Tournament - Round of 16
2016: Baidu Harem Moe - Round of 32
2016: Best Girl Contest - Quarterfinalist
2016: The Great Awwnime Bracket - Quarterfinalist

Love does not always go as planned, and Sakura Chiyo learns that the hard way.

Sakura Chiyo, sixteen-years-old, asks out the boy she likes only to end up receiving his autograph. Little does Chiyo know that the unexpected exchange is merely a prelude to even more wackiness. Before she knows it, Chiyo finds herself in the boy's apartment… and taking on the role of a manga assistant!? Confused though she is, Chiyo resolves to grasp the opportunity – it is sink or swim, and Chiyo will go with the flow, wherever it might take her.

As it turns out, Chiyo's determination and patience are soon to be put to the test. While she is always on the lookout for an opportunity to get her feelings across, and delighted whenever things seem to be going her way, her personal game of love is definitely set to hard mode. Not only is her prospective sweetheart as oblivious as it gets, it seems that everyone Chiyo meets at her new workplace has at least a few screws loose. Chiyo soon learns that even the most promising situation can end in unexpected disaster. As if her getting nervous around the boy were not obstacle enough!

Despite all that, Chiyo still keeps a smile on her face. Working together can be a fun experience, and she puts all her heart into her assistant work, page after page. She is not in the art club for nothing! Chiyo also soon comes to appreciate the new friendships with the other assistants, and learns not to let her expectations get the better of her. If she can look back on every passing day with a smile, it is all that matters, right? Well, just a tiny little bit of romantic development would not hurt, really. Her unrequited love for that boy is still there, and it burns brighter every day.

Will Sakura Chiyo ever find the courage to confess her love properly? Will her dream of spending her life with her loved one come true? No one knows what will happen in the future. All that is certain is that the love story of Sakura Chiyo, sixteen-years-old, is nowhere near its end.


Past Notable Matches

ISML 2015 Regular Season: (1st Place)
Aquamarine 7: 3902-4043 to Onodera Kosaki (Nisekoi)
Topaz 6: 2874-2778 over Kirisaki Chitoge (Nisekoi)
Topaz 7: 3813-3676 over Yukinoshita Yukino (OreGairu)

ISML 2015 Championship: (5th Place)
Round of 16: 4682-2790 over Aoyama Nanami (Sakura-sō no Pet na Kanojo)
Quarterfinals: 3564-5676 to Shiina Mashiro (Sakura-sō no Pet na Kanojo)


Best Girl Contest 2014: (Round 3)
Round 1: 2993-2426 to Tsugumi Seishirō (Nisekoi)

Great Awwnime Bracket 2014: (Group Finalist)
Group Finals: 567-585 to Onodera Kosaki (Nisekoi)

Animefans Saimoe Tournament 2015: (Round of 32)
Round of 32: (371+54)-(714+8) to Nōmi Kudryavka (Little Busters!)

Best Girl Contest 2015: (Round of 16)
Round of 16: 5877-7545 to Tōsaka Rin (Fate Series)