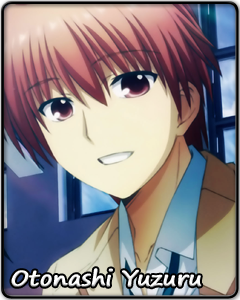 | | |
| --- | --- |
| Name: | Otonashi Yuzuru 「音無 結弦」 |
| Title Series: | Angel Beats! |
| Voiced by: | Kamiya Hiroshi |
Career ISML Performance
2011: Quarterfinalist
2012: Quarterfinalist
2013: Round of 16

Moe Tournament Résumé

Waking up in the middle of a battlefield is never fun. Particularly when you happen to be suffering from a bad case of amnesia.

Otonashi Yuzuru somehow finds himself joining the ranks of a secret organization claiming to fight against God for a chance of freedom. From what he is told, the best way to go about doing that is to pelt God's messenger with bullets. But rather than believing everything his new comrades say, Yuzuru would like to listen to both sides of the story and come to his own conclusions about certain matters. He would prefer it if everyone could talk out their differences and reconcile instead of engaging in battle, but the hopes of that happening are slim.

It does not take long for Yuzuru to realize that, although the claims made by the organization sound far-fetched, there is certainly something wrong with the structure of his new world. Yuzuru takes matters into his own hands, gathering as much information as he can about this bad feeling of his. And when he realizes the truth about this matter, Yuzuru finds himself trapped in a dilemma. If he does what he believes is right, will he really be helping his friends, or is he only doing it for personal satisfaction?

Hopefully, with the help of his comrades, Yuzuru can one day find the right answer.


Past Notable Matches

ISML 2011 Exhibition Period: (Quarterfinalist)
Quarterfinals: 2096-2658 to Lelouch Lamperouge (Code Geass)

ISML 2012 Exhibition Period: (Quarterfinalist)
Quarterfinals: 3108-4468 to Kirigaya Kazuto (Sword Art Online)

ISML 2013 Exhibition Period: (Round of 16)
Round of 16: 3280-3545 to Sakamaki Izayoi (Mondaiji)