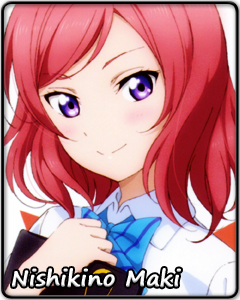 | | |
| --- | --- |
| Name: | Nishikino Maki 「西木野 真姫」 |
| Title Series: | Love Live! |
| Voiced by: | Pile |
Career ISML Performance
2015: 12th Place Nova Division. Record: (23-0-12)
2016:

Moe Tournament Résumé
2013: Anime Saimoe Tournament - Round of 288
2014: Anime Saimoe Tournament - Round of 32
2014: Baidu Anime Saimoe Tournament - Round of 128
2014: Baidu Nova Moe - 1st Place
2014: Best Girl Contest - Round of 512
2014: The Great Awwnime Bracket - Round of 64
2014: Yamibo Yuri Saimoe - Quarterfinalist
2015: Animefans Saimoe Tournament - Round of 64
2015: Baidu Anime Saimoe Tournament - Quarterfinalist
2015: Best Girl Contest - Round of 512
2015: Bilibili Moe - Round of 32
2015: Miss Anime Tournament - Round of 32
2015: Senpuu Saimoe Tournament - Round of 32
2016: Best Girl Contest - Round of 256
2016: The Great Awwnime Bracket - Round of 16
2016: Yamibo Yuri Saimoe - Semifinalist

The sound of a gentle melody coming from the music room is most likely the work of the calm and collected Nishikino Maki.

Coming from a wealthy background and intelligent in her own right, Maki prefers to spend her time alone, undisturbed by her peers. The piano is the medium that brings out her true self: a girl madly in love with music. Classical, jazz, pop, rock, R&B, composition, and voice - Maki is knowledgeable in all kinds of music. However, when asked to join an idol group as a composer, Maki refuses, simply because she does not like the idea. But she might offer her assistance here and there if her peers ask her nicely for help.

While very mature for her age, people tend to forget that she is still in her freshman year of high school. In rare moments, Maki shows a more childish side of herself. She gets embarrassed when people show their surprise at her wealthy background, can be stubborn if things do not go her way, and still believes in that one man who only comes during Christmas while wearing a large red suit. Even so, her friends love her all the same.

Maybe this school idol idea is not so bad after all...


Past Notable Matches

ISML 2015 Regular Season: (12th Place)
Ruby 6: 2806-2795 over Asada Shino (Sword Art Online)
Emerald 3: 2579-2493 over Konno Yūki (Sword Art Online)
Emerald 4: 2775-2860 to Kuriyama Mirai (Kyōkai no Kanata)
Topaz 1: 2615-2535 over Akame (Akame ga Kill!)
Topaz 4: 2860-2769 over Minami Kotori (Love Live!)


Best Girl Contest 2014: (Round 1)
Round 1: 1220-1116 to La Folia Rihavein (Strike the Blood)

Great Awwnime Bracket 2014: (Round 3)
Round 3 267-441 to Aoyama Nanami (Sakura-sō no Pet na Kanojo)

Anime Saimoe Tournament 2014: (Round of 32)
Round of 32: 73-108-145-10 to Shimizudani Ryūka (Saki) & Haramura Nodoka (Saki) and over Matsumi Yū (Saki)

Baidu Nova Moe 2014: (1st Place)
Round of 16: 28418-27266 over Shiba Miyuki (Mahōka Kōkō no Rettōsei)
Quarterfinals: 2199-1143 over Hoshizora Rin (Love Live!)
Semifinals: 26390-13492 over Tokisaki Kurumi (Date A Live)
Final: 5585-4490 over Minami Kotori (Love Live!)

Yamibo Yuri Saimoe 2014: (Quarterfinals)
Round of 16: 214-108 over Minami Kotori (Love Live!)
Quarterfinals: 256-257 to Sonoda Umi (Love Live!)

Animefans Saimoe Tournament 2015: (Round of 64)
Round of 64: (318-68)-(478+82) to Aihara Enju (Black Bullet)

Best Girl Contest 2015: (Round 1)
Round 1: 2477-3065 to Annie Leonhart (Shinjeki no Kyojin)