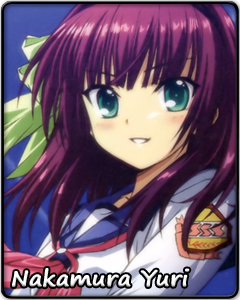 | | |
| --- | --- |
| Name: | Nakamura Yuri 「仲村ゆり」 |
| Title Series: | Angel Beats! |
| Voiced by: | Sakurai Harumi |
Career ISML Performance
2011: 13th Place. Record: (36-0-13) / (0-1)
2012: 5th Place Nova Division. Record: (31-0-4)
2012: 11th Place League Finals
2013: 12th Place Stella Division. Record: (24-0-11)
2014:
2015:
2016:

Moe Tournament Résumé
2010: Anime Saimoe Tournament - Round of 288
2010: Baidu Anime Saimoe Tournament - Round of 32
2010: Korean Best Moe - 8th Place
2010: Korean Super Best Moe - Round of 128
2011: Anime Saimoe Tournament - Round of 288
2011: Animefans Saimoe Tournament - Semifinalist
2011: Baidu Anime Saimoe Tournament - Round of 16
2011: Korean Best Moe - 24th Place
2012: The Great Awwnime Bracket - Round of 256
2014: Best Girl Contest - Round of 128
2015: Baidu Nova Moe - Round of 32
2015: Best Girl Contest - Round of 64
2015: Bilibili Moe - Round of 128
2016: Baidu Harem Moe - Round of 64
2016: Best Girl Contest - Round of 128
2016: Hongkong Golden Saimoe - Round of 192

For the brief moment, the explosion tears through the corridor, and Nakamura Yuri throws her back against the wall. Her left hand is on her trusty handgun; her right hand reaches for her last grenade. Her breathing is heavy. The air is thick with dust. A drop of sweat runs down the side of her face, and slowly, her lips form a deep, confident smile. She does not fear facing an invincible foe. She has her weapons, her smarts, and her subordinates behind her back. She can lose against anyone, but not against God.

Yuri carries deeper scars than anyone could imagine, but her eyes never betray her pain, and her determined expression is never clouded with doubt. She has long decided to turn the burden of her memories into strength. Those with similar pasts are drawn to Yuri's courage and leadership skills. With their support, Yuri makes a resolution – she will fight the cruelty of this world head on and take back everything that was stolen from her and her friends.

When not in the middle of a life and death struggle, Yuri enjoys herself by bossing others around. Absolute obedience is required, and any opposition results in a harsh punishment game. Yuri's 'evil character laugh' is second to none, and she is not one for holding back. But everything she does is, of course, for the benefit of her unfortunate victims. No matter how much she tries to deny it, Yuri is like a big sister to all her underlings, and she loves them all like family.


Past Notable Matches

ISML 2011 Regular Season: (13th Seed)
Topaz 6: 3922-3953 to Charlotte Dunois (IS )
Amethyst 6: 3188-3191 to Yui (Angel Beats!)

ISML 2011 Championship: (13th Place)
Round of 16: 3471-5580 to Nakano Azusa (K-ON!)

ISML 2013 Regular Season: (12th Seed)
Ruby 6: 3492-3497 to Akiyama Mio (K-ON!)
Topaz 1: 7237-7350 to Nakano Azusa (K-ON!)


Korea Best Moe 2010: (8th Place)
Round of 16: 863-632 over Tōsaka Rin (Fate/stay night)
Quarterfinals: 794-1153 to Hirasawa Yui (K-ON!)

Korea Best Moe 2011: (24th Place)
Round of 16: 168-245 to Victorique de Blois (GOSICK)