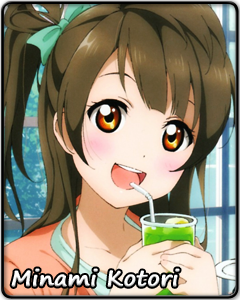 | | |
| --- | --- |
| Name: | Minami Kotori 「南 ことり」 |
| Title Series: | Love Live! |
| Voiced by: | Uchida Aya |
Career ISML Performance
2015: 28th Place Nova Division. Record: (9-0-26)
2016:

Moe Tournament Résumé
2013: Anime Saimoe Tournament - Round of 104
2014: Anime Saimoe Tournament - Round of 64
2014: Baidu Anime Saimoe Tournament - Round of 64
2014: Baidu Nova Moe - 2nd Place
2014: Best Girl Contest - Round of 512
2014: The Great Awwnime Bracket - Round of 128
2014: Yamibo Yuri Saimoe - Round of 16
2015: Animefans Saimoe Tournament - Semifinalist
2015: Baidu Anime Saimoe Tournament – 1st Place
2015: Baidu Nova Moe - Round of 32
2015: Bilibili Moe - Round of 16
2015: Miss Anime Tournament - Round of 16
2016: Best Girl Contest - Round of 512
2016: Hongkong Golden Saimoe - Round of 192
2016: The Great Awwnime Bracket - Round of 32
2016: Yamibo Yuri Saimoe - Round of 96

Minami Kotori loves designing beautiful dresses. And she does not shy away from putting one on herself when opportunity calls for her to take center stage.

Having a gentle personality, she can always solve the problems between her precious friends. She is a girl that always cares for her friends a lot and is loved by them in return. However, this is not all there is to her. In order to challenge and improve herself, she started working in a café in the city. It went well enough that, with some time, she became a part of the local folklore – the legendary maid.

At school, during her school idol activities or in her free time, Kotori is always a great help to her partners and friends. And although she is usually the one providing support, sometimes she needs assistance from her friends too. Facing some decisions which are difficult for her to make, the thing that she needs most is the support of her precious friends.

To her, the greatest thing in her life must be having those friends always by her side.


Past Notable Matches

ISML 2015 Regular Season: (28th Place)
Aquamarine 2: 2540-2391 over Terminus Est (Seirei Tsukai no Blade Dance)
Aquamarine 7: 3208-3216 to Sonoda Umi (Love Live!)
Amethyst 6: 2702-2679 over Tobiichi Origami (Date A Live)
Amethyst 7: 3281-3389 to Azuki Azusa (Hentai Ōji to Warawanai Neko.)
Emerald 2: 2395-2364 over Shichimiya Satone (Chūnibyō demo Koi ga Shitai!)
Topaz 4: 2769-2860 to Nishikino Maki (Love Live!)


Best Girl Contest 2014: (Round 1)
Round 1: 1063-1905 to Anjō Naruko (AnoHana)

Great Awwnime Bracket 2014: (Round 1)
Round 2: 277-414 to Hachikuji Mayoi (Monogatari Series)

Anime Saimoe Tournament 2014: (Group Finalist)
Group Finals: 67-254 to Kujō Karen (Kin-iro Mosaic)

Baidu Nova Moe 2014: (Finalist)
Round of 16: 5858-1106 over Kitashirakawa Tamako (Tamako Market)
Quarterfinals: 3947-3908 over Yazawa Nico (Love Live!)
Semifinals: 3190-3028 over Tōjō Nozomi (Love Live!)
Finals: 4490-5585 to Nishikino Maki (Love Live!)

Yamibo Yuri Saimoe 2014 (Round of 16)
Round of 16: 108-214 to Nishikino Maki (Love Live!)

Animefans Saimoe Tournament 2015: (Semifinalist)
Quarterfinals: (282+113)-(244+102) over Sonoda Umi (Love Live!)
Semifinals: (304+122)-(527+135) to Yūki Asuna (Sword Art Online)