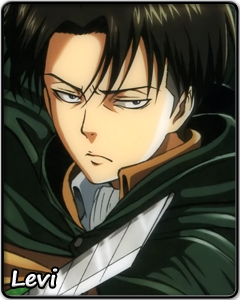 | | |
| --- | --- |
| Name: | Levi 「リヴァイ」 |
| Title Series: | Shingeki no Kyojin |
| Voiced by: | Kamiya Hiroshi |
Career ISML Performance
2013: Quarterfinalist
2015:
2016:

Moe Tournament Résumé
2013: Animefans Saigar Tournament - Round of 16
2013: The Great Awwnime Bracket - Boys Bracket - Round of 32
2014: Animefans Saigar Tournament - 2nd Place
2014: The Great Awwnime Bracket - Round of 256
2015: Animefans Saigar Tournament - 1st Place
2015: Best Guy Contest - Round of 16
2015: Bilibili Moe - Male Tournament- Quarterfinalist
2016: Best Guy Contest - Round of 32

What lies behind the eyes of the most powerful man in the army? What choices did he make to get this far?

When humanity is driven into a corner by man-eating titans, the only hope left is the army. Or more specifically, the Survey Corps. However, with the number of deaths on the rise, the number of volunteers willing to join the most dangerous legion of the army is steadily dwindling, and it seems that all hope is lost.

That is... until captain Levi swoops in.

Armed with his 3D maneuver gear and double blade swords, the man is capable of taking down titans with grace, ease, and speed. Even when he is disgruntled and complains at the bloody mess he makes, he gets the job done. He is the hope of humanity – a man with the strength of an army.

However, the strongest people are usually the most damaged. Levi learns and still believes that going through loss, suffering, and pain is part of growing stronger. Even when he makes the wrong choice, a choice that causes him to lose all he holds dear.

The only thing that he is allowed to do is to believe that he will not regret the choices he made.


Past Notable Matches

ISML 2013 Exhibition Period: (Quarterfinalist)
Quarterfinals: 4716-4767 to Oreki Hōtarō (Hyōka)


Animefans Saigar Tournament 2013: (Round of 16)
Round of 16: 724-871 to Suoh Mikoto (K)

The Great Awwnime Bracket 2013 Boys Bracket: (Round of 32)
Round of 32: 67-159 to Togashi Yūta (Chūnibyō demo Koi ga Shitai!)

Animefans Saigar Tournament 2014: (2nd Place)
Final: 147-191 to Killua Zoldyck (Hunter x Hunter)

The Great Awwnime Bracket 2014: (Round of 256)
Round of 256: 200-557 to Aragaki Ayase (Ore no Imōto)

Best Guy Contest 2015: (Round of 16)
Round of 16: 2774-3403 to Orihara Izaya (Durarara!!)