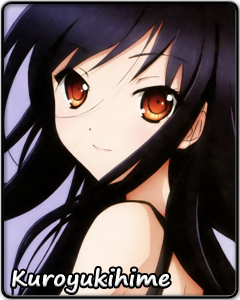 | | |
| --- | --- |
| Name: | Kuroyukihime 「黒雪姫」 |
| Title Series: | Accel World |
| Voiced by: | Misawa Sachika |
Career ISML Performance
2013: 3rd Place Nova Division. Record: (32-0-3)
2013: 10th Place League Final
2014: 5th Place Nova Division. Record: (31-0-4)
2014: 6th Place League Finals
2015:
2016:

Moe Tournament Résumé
2012: Anime Saimoe Tournament - Round of 96
2012: Baidu Nova Moe - Round of 16
2012: Korean Best Moe - 4th Place
2012: The Great Awwnime Bracket - Round of 256
2013: Anime Saimoe Tournament - Round of 288
2013: Animefans Saimoe Tournament - Round of 16
2013: Baidu Anime Saimoe Tournament - Round of 384
2013: Baidu Harem Moe - Round of 16
2013: The Great Awwnime Bracket - Round of 256
2014: AnimeGirl Saimoe Tournament - Round of 64
2014: Baidu Harem Moe - Round of 32
2014: Baidu Nova Moe - Round of 64
2014: Best Girl Contest - Round of 128
2015: Best Girl Contest - Round of 256
2016: Hongkong Golden Saimoe - Semifinalist

In her everyday life, Kuroyukihime is the epitome of a model student – smart, well-behaved and popular with her schoolmates. With her beauty and aura of authority, she is more often seen as an object of admiration than an ordinary girl. But little do those around her imagine that the true Kuroyukihime is somebody greater yet than she appears. In a world hidden from their eyes, Kuroyukihime bears the title of "king", leading the legion of her followers to battle and glory.

Kuroyukihime's journey to the top was a long and difficult one. She gained strength, but suffered wounds which would haunt her forever. She met people who would become her most trusted companions, but learned the bitter taste of partings and betrayal. She thought herself ready for the hardship and sacrifice awaiting her, but even she could not predict the despair to come at the end of her path.

As her past catches up to her, Kuroyukihime has no choice but to face the aftermath of her choices. She must decide either to give up on everything she had built up so far… or take on the responsibility of a king once more. As Kuroyukihime seeks out help in her quest, she will find out that not only are the bonds from her past not completely gone, but also that there are new feelings she has yet to discover. To persevere against the weight of her sin, Kuroyukihime must do something she has never done before: find the strength to trust another and firmly grasp their hand.


Past Notable Matches

ISML 2013 Regular Season: (3rd Seed)
Ruby 7: 3939-4035 to Takanashi Rikka (Chūnibyō demo Koi ga Shitai!)

ISML 2013 League Final: (10th Place)
Round of 16: 5854-4423 over Aisaka Taiga (Toradora!)
Quarterfinal: 4276-7656 to Tachibana Kanade

ISML 2014 Regular Season: (5th Place)
Ruby 7: 3050-2999 over Yūki Asuna (Sword Art Online)

ISML 2014 Championship: (6th Place)
Round of 16: 3020-3545 to Gokō Ruri (Kuroneko) (Ore no Imōto)


Korea Best Moe 2012: (4th Place)
Round of 16: 107-85 over Takatsuki Yayoi (THE iDOLM@STER)
Quarterfinal: 125-82 over Oshino Shinobu (Bakemonogatari)
Semifinal: 89-200 to Senjōgahara Hitagi (Bakemonogatari)

Great Awwnime Bracket 2012: (Round 5)
Round 5: 516-693 to Shiina Mayuri (Steins;Gate)

Girls Bracket 2013: (Round 1)
Round 1: 503-659 to Aoyama Nanami (Sakura-sō no Pet na Kanojo)

Best Girl Contest 2014: (Round 3)
Round 3: 1763-4180 to Saber (Fate/Stay Night)