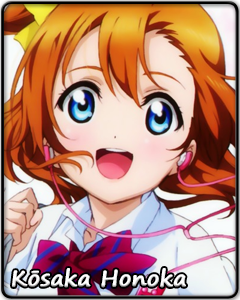 | | |
| --- | --- |
| Name: | Kōsaka Honoka |
| Title Series: | Love Live! |
| Voiced by: | Nitta Emi |
Career ISML Performance
2016:

Moe Tournament Résumé
2013: Anime Saimoe Tournament - Round of 104
2013: Baidu Anime Saimoe Tournament - Round of 384
2014: Anime Saimoe Tournament - Round of 64
2014: Baidu Anime Saimoe Tournament - Round of 128
2014: Baidu Nova Moe - Quarterfinalist
2014: Best Girl Contest - Round of 512
2014: Senpuu Saimoe Tournament - Round of 96
2014: The Great Awwnime Bracket - Round of 256
2015: AnimeGirl Saimoe Tournament - Round of 64
2015: Baidu Anime Saimoe Tournament - Round of 32
2015: Baidu Nova Moe - Round of 64
2015: Best Girl Contest - Round of 512
2015: Bilibili Moe - Round of 32
2016: Best Girl Contest - Round of 512
2016: Hongkong Golden Saimoe - Round of 192
2016: Yamibo Yuri Saimoe - Round of 16

'Everyone, let us face forward until the very end. Fight on!'

If one needed someone to radiate optimism, look no further than Kōsaka HonokaHonoka – leader of the world-famous idol group, μ's. As the leader of a nine-man group, Honoka must put in even more effort than her fellow idol mates, bring the group together, and be the glue that sticks them together. Thankfully, her personality easily does just that, with her rather friendly and peppy attitude that just simply draws everyone together, like bears to a beehive.

But Honoka is not just a leader; she is also an idol. As an idol, she is determined to bring out her very best in each performance, overcoming her limits and aiming to shine as brightly as she can. Her style is that of a cheerful and determined sort. You can expect yourself to feel motivated to pursue your dreams and ambitions after hearing the soothing yet enthusiastic melody she sings.

But one must remember, no matter how perfect a leader may seem to be, they are still very much humane, and Honoka is a perfect example of this. While she may be the one to lead her group, she is still very much reliant on her friends to help her with her flaws, which include her clumsiness, her gluttony, her tendency to overwork herself, etc. Basically, a whole myriad of flaws that make her just so lovable amongst her fans as they accept that flawed side of her.

So, while Honoka may not be the best leader or the most loved member, she is still very much the leading power of the group and will continue to do so with each year as both a student and an idol.


Past Notable Matches