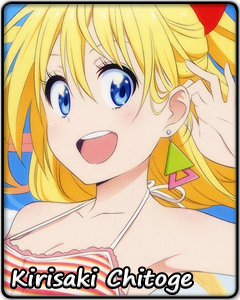 | | |
| --- | --- |
| Name: | Kirisaki Chitoge 「桐崎 千棘」 |
| Title Series: | Nisekoi |
| Voiced by: | Tōyama Nao |
Career ISML Performance
2015: 8th Place Nova Division. Record: (27-0-8)
2015: 4th Place League Finals
2016:

Moe Tournament Résumé
2014: Anime Saimoe Tournament - Round of 32
2014: Animefans Saimoe Tournament - Round of 64
2014: Baidu Nova Moe - Round of 32
2014: Best Girl Contest - Group Finalist
2014: The Great Awwnime Bracket - Semifinalist
2015: Animefans Saimoe Tournament - Round of 16
2015: AnimeGirl Saimoe Tournament - Round of 32
2015: Baidu Harem Moe - Round of 32
2015: Baidu Nova Moe - Round of 64
2015: Best Girl Contest - Round of 32
2015: Bilibili Moe - Round of 128
2015: Miss Anime Tournament - Round of 32
2015: Senpuu Saimoe Tournament - Round of 32
2016: Baidu Harem Moe - Round of 32
2016: Best Girl Contest - Round of 64
2016: The Great Awwnime Bracket - Round of 64

If her series were called "Romeo and Juliet," Kirisaki Chitoge would be Juliet… except that she is an unladylike and short-tempered daughter of a mafia boss. Not to mention her knack for misunderstanding things.

But while she does not fit the mold of the famous character, that does not stop Chitoge from aiming for that ideal. Living with the mafia means not staying in one spot for too long, so Chitoge always has too little time to associate with others, get to know them better, and have fun together. But Chitoge will not give up so easily – she keeps a diary about all of her classmates so that she can relate to them to the best of her ability. What is wrong with wanting to fit in?

Chitoge strives to be relatable to her peers, molding herself to fit the world around her. What do people talk about when they go shopping? What is the correct thing to buy when helping a friend buy a present? What is the best advice to give to someone who wants to confess his or her love? These are some of the questions Chitoge seeks an answer for. Chitoge is shocked, though, when the most valuable advice comes from an enemy: she can act like herself, and people will still accept her for who she is. And so, Chitoge tries something new: staying true to herself and her feelings.

In this story about false love, Chitoge searches for a special key. She hopes the door it opens will lead her to a love from her past, but also to her own heart. Then again, the quickest way to make a long story short is to say those three magic words. How hard can it be?


Past Notable Matches

ISML 2015 Regular Season: (8th Place)
Emerald 4: 2850-2805 over Miyazono Kaori (Shigatsu wa Kimi no Uso)
Topaz 2: 3148-3171 to Yoshino (Date A Live)
Topaz 4: 3005-3032 to Yaya (Machine-Doll wa Kizutsukanai)
Topaz 6: 2778-2874 to Sakura Chiyo (Gekkan Shōjo Nozaki-kun)

ISML 2015 Championship: (4th Place)
Round of 16: 3473-2655 over Aragaki Ayase (Ore no Imōto)
Quarterfinals: 4226-4082 over Yuigahama Yui (OreGairu)
Semifinals: 4491-5661 to Chitanda Eru (Hyōka)


Best Girl Contest 2014: (Group Finalist)
Group Finals: 5248-5940 to Yoko Littner (Tengen Toppa Gurren Lagann)

Great Awwnime Bracket 2014: (Semifinalit)
Group Finals: 641-496 over Aoyama Nanami (Sakura-sō no Petto na Kanojo)
Semifinals: 435-550 to Onodera Kosaki (Nisekoi)

Animefans Saimoe Tournament 2014: (Round of 64)
Round of 64: (807+6)-(1232+6) to Index L. Prohibitorum (Toaru Majutsu no Index)

Anime Saimoe Tournament 2014: (Round of 32)
Round of 32: 33-206-191-21 to Miyanaga Saki (Saki) & Kaname Madoka (Puella Magi Madoka ☆ Magica) & over Nakagawa Kanon (Kami nomi zo Shiru Sekai)

Best Girl Contest 2015: (Round of 32)
Round of 32: 5214-5720 to Matoi Ryūko (Kill la Kill)