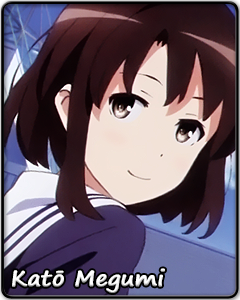 | | |
| --- | --- |
| Name: | Katō Megumi |
| Title Series: | Saenai Heroine no Sodatekata |
| Voiced by: | Yasuno Kiyono |
Career ISML Performance
2016:

Moe Tournament Résumé
2015: Animefans Saimoe Tournament - Round of 16
2015: Baidu Anime Saimoe Tournament - Round of 32
2015: Baidu Nova Moe - Round of 64
2015: Best Girl Contest - Round of 128
2015: Bilibili Moe - Quarterfinalist
2015: Hongkong Golden Saimoe – 1st Place
2015: Senpuu Saimoe Tournament - Round of 32
2016: AnimeGirl Saimoe Tournament - Round of 64
2016: Baidu Harem Moe - Round of 16
2016: Best Girl Contest - Round of 64
2016: The Great Awwnime Bracket - Round of 64

If one compares Kato Megumi to a flower in a flower bed, she is the one most likely ignored for the more exuberant and vibrant ones.

Like a wallflower with no special trait or talent, one could say that Megumi is the epitome of normalcy. Normal looks, normal grades, normal body proportions, normal athletic ability, style, taste, hair color, mindset, outlook, curiosity – there is almost nothing about her that stands out from the average crowd. In fact, had she not been the focus of her work, she would have gone completely unnoticed, a background character that does not add any elements in her story. Yet, out of the blue, on one fine day, she suddenly became the heroine of a dating sim to be created by her classmates, which she openly accepts and goes with the flow.

If there is one characteristic about Megumi that makes her stand out, it is her ability to give it her all on a particular subject. Whether it is searching for the latest trends, figuring out the proper pose and speech, or understanding the life of a producer, Megumi takes her time to study these subjects diligently and help her friends out in her own way. And when she surprises everyone with her knowledge of his or her craft, she slowly draws everyone into her spotlight that has yet been noticed.

And so, she continues to embark on the journey to become the ideal heroine of this game. And maybe, that unnoticed flower is actually a rose waiting to bloom at its opportune moment.


Past Notable Matches