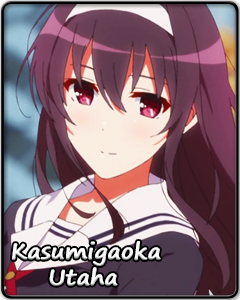 | | |
| --- | --- |
| Name: | Kasumigaoka Utaha |
| Title Series: | Saenai Heroine no Sodatekata |
| Voiced by: | Kayano Ai |
Career ISML Performance
2016:

Moe Tournament Résumé
2015: Animefans Saimoe Tournament - Round of 144
2015: Baidu Anime Saimoe Tournament - Round of 160
2015: Baidu Nova Moe - Round of 64
2015: Best Girl Contest - Round of 128
2015: Bilibili Moe - Round of 128
2015: Hongkong Golden Saimoe - Round of 48
2015: Senpuu Saimoe Tournament - Round of 96
2016: Baidu Harem Moe - Round of 16
2016: Best Girl Contest - Round of 128
2016: Hongkong Golden Saimoe - Round of 192
2016: The Great Awwnime Bracket - Round of 128

Tall. Check. Long Black Hair. Check. A Senior. Check. Beautiful. Check. Gives off a "far away to reach" aura. Check. Has a junior who admires her, yet is indecisive on whether or not to approach her in a romantic way. Check. Is in love with said junior, but he is too dense to realize her feelings. Check. Has to compete with other girls of different archetypes who are pursuing said junior. Check.

Yes, Kasumigaoka Utaha fits the category of the alluring senior to the T, but her real life romance story does not go as smoothly as her best-selling novels. Renowned for writing works that sold millions of copies, one would think that she would be perceptive about the choices people make around her and be able to foresee what is to come. Alas, the human heart tends to overcome reason, and Utaha falls into the same traps that the characters in her novels would have made.

Although a romantic, Utaha is very strict, particularly to herself. She wants everything to be precise and accurate, from a school play to helping someone gain ideas on how to get a certain someone out from a slump. She will not take anything less than perfection. Maybe this is way she appears hard to grasp. Someone as flawless as her might make people second guess whether or not to approach her.

Above all else, Utaha is determined to turn the events to her favor and win his heart. After all, if she is able to play the story to her direction, she is sure to win.


Past Notable Matches