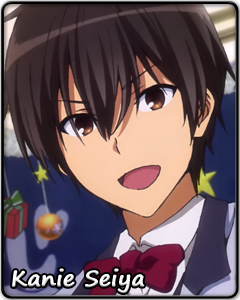 | | |
| --- | --- |
| Name: | Kanie Seiya 「可児江 西也」 |
| Title Series: | Amagi Brilliant Park |
| Voiced by: | Uchiyama Kōki |
Career ISML Performance
2015:
2016:

Moe Tournament Résumé
2015: Animefans Saigar Tournament - Round of 32
2015: Best Guy Contest - Round of 64
2015: Bilibili Moe - Male Tournament - Round of 128
2015: Hongkong Golden Saimoe - Male Tournament - Round of 16
2016: Best Guy Contest - Round of 64

"Mirror, mirror, on the wall, who is the fairest of them all? Stop, don't answer, for you are looking at him right now. Oh, how cruel can perfection be to choose me as the man who can wear anything and still look fabulous!?"

The former child actor Kanie Seiya ends up working at a run-down amusement park on the verge of foreclosure. An odd change of occupation for someone of his talent, but a rifle pointed at his head is more than enough persuasion for him to accept the task, as reluctant as he is about it. His first impression after a visit to this so-called place of entertainment is that the dump is in no shape to reestablish itself anytime soon... unless they put him in charge.

Acting as an assistant manager of this amusement park turns out to be a lot easier than he thought. In fact, he seems so naturally gifted in giving people orders, coming up with plans, and executing strategies to make this amusement park more successful that few would hazard to guess that it is his first time doing this sort of job. And when other competing amusement park managers offer him the chance to work in a more profitable environment, Seiya refuses not out of pride, but because there is something here that he needs to fiigure out, an answer he can only find by staying in this position.

Badge on his shirt, necktie on just right, a few looks in the mirror, and Seiya is ready, mind and appearance alike, for any and all obstacles coming his way.


Past Notable Matches

Best Guy Contest 2015: (Round of 64)
Round of 64: 2195-3416 to Lawrence Kraft (Spice & Wolf)