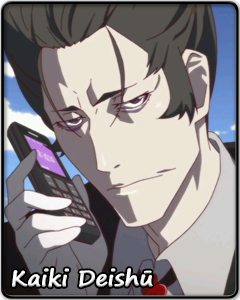 | | |
| --- | --- |
| Name: | Kaiki Deishū |
| Title Series: | Monogatari Series |
| Voiced by: | |
Career ISML Performance
2016:

Moe Tournament Résumé
2014: Senpuu Saimoe Tournament - Male Tournament - Semifinalist
2014: The Great Awwnime Bracket - Round of 256
2015: Best Guy Contest - Round of 32
2015: Senpuu Saimoe Tournament - Male Tournament - Round of 24
2016: Best Guy Contest - Round of 32

Is it really his fault that children are the most gullible creatures in the world? Should it be held against him if the messages and articles he provides causes an unwarranted conclusion? Does he care what happens when the situations that occur based on his charms hints a dark foreshadowing if used improperly?

Cause and effect as Kaiki Deishū would have said. The only true conclusion to these scenarios is the sum he was given for his services. Whatever proceeded after the transaction does not, and should not, concern him. After all, it is up to the human whether or not the darkness inside of him or her would get the best of that very person, and Deishū knows he has no part of that.

Deishū is an observer, curious about human psychology and how far humans would go to get what he or she wants. Deishū merely presents a possible situation to free them from their current troubles. Whether or not they take it is their choice. Deishū would stand there, watch everything unfold, and simply disappear into the mist. Once the state of affairs has cleared itself, it would be time to move on to the next one and carry on more postulations.

What can be going on in the mind of the main who claims to be neutral? Only he knows the answer to that.


Past Notable Matches