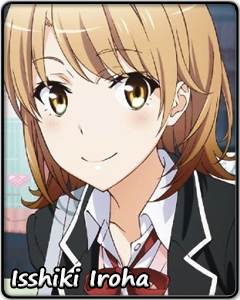 | | |
| --- | --- |
| Name: | Isshiki Iroha |
| Title Series: | Yahari Ore no Seishun Love Comedy wa Machigatteiru. |
| Voiced by: | Sakura Ayane |
Career ISML Performance
2016:

Moe Tournament Résumé
2015: Baidu Nova Moe - Round of 64
2015: Best Girl Contest - Round of 64
2015: Bilibili Moe - Round of 128
2015: Ore no Saimoe - Round of 16
2015: Senpuu Saimoe Tournament - Quarterfinalist
2016: AnimeGirl Saimoe Tournament - Round of 64
2016: Baidu Harem Moe - Round of 64
2016: Best Girl Contest - Round of 32
2016: Hongkong Golden Saimoe - Round of 192
2016: The Great Awwnime Bracket - Round of 64

A fox in sheep's clothes or a fox trying to genuinely mingle with the sheep?

As one of the cuter girls in her school, the cunning Isshiki Iroha is fully aware of making the most of her charms. On many occasions, acting as a needy girl is all she needs to sweep any unwary males off their feet and make them do her bidding. Under the premise of purity, she deviously claws her way to fame, gaining power, a high position in the social strata, and the attention from that handsome boy she has a crush on.

But, after an encounter with a certain upperclassman that understands her true self and still treats her fairly, she realizes that she wants something real, something that is beyond superficial, something that she can call 'hers' without a doubt. Thus, she begins her newfound quest: to turn away from the façade she was strong at and to bring out a genuine version of herself. Slowly, she transforms into a woman, someone who can be a true role model to her associates in the student council.

At the same time, she continues her relentless pursuit of love. She knows that it will be a journey full of disappointments. But, she does not care; she is determined and will turn every setback into an advantage. After all, a fox always has a few tricks up its sleeves.


Past Notable Matches