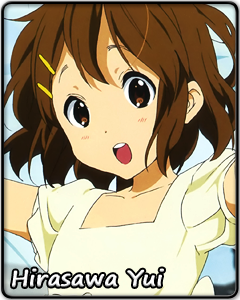 | | |
| --- | --- |
| Name: | Hirasawa Yui 「平沢唯」 |
| Title Series: | K-ON! |
| Voiced by: | Toyosaki Aki |
Career ISML Performance
2010: 9th Place. Record: (36-0-13) / (1-2)
2011: 19th Place. Record: (32-0-17)
2012: 11th Place Stella Division. Record: (25-0-10)
2013: 16th Place Stella Division. Record: (20-0-15)
2014:
2015:
2016:

Moe Tournament Résumé
2nd Place - Japan Saimoe 2009
Top 96 - Korea Best Moe 2009
Round 2 - Japan Saimoe 2010
4th Place - Korea Best Moe 2010
Round 1 - Japan Saimoe 2011
Top 96 - Korea Best Moe 2011
Round 2 - Korea Best Moe 2012
2009: Anime Saimoe Tournament - 2nd Place
2009: Korean Best Moe - Round of 96
2010: Anime Saimoe Tournament - Round of 72
2010: Korean Best Moe - 4th Place
2010: Korean Super Best Moe - Round of 16
2011: Animefans Saimoe Tournament - Round of 16
2011: Baidu Anime Saimoe Tournament – 2nd Place
2011: Korean Best Moe - Round of 96
2012: Anime Saimoe Tournament - Round of 96
2012: Animefans Saimoe Tournament - Round of 32
2012: The Great Awwnime Bracket - 2nd Place
2013: Animefans Saimoe Tournament - Round of 32
2015: Best Girl Contest - Round of 64
2015: Hongkong Golden Saimoe - Semifinalist
2016: Best Girl Contest - Round of 64
2016: Hongkong Golden Saimoe - Semifinalist

One day, a breathless Yui will run through the streets of her home town to reach a concert, her concert, in time. She will keep her gaze locked straight ahead of her and will not slow down even as she stumbles. She will grasp her dream firmly with both hands.

Until that day, though, she is unlikely to display any sense of urgency (or purpose, for that matter).

Yui enters high school fully prepared to drift through another three years of life. Her distinctive quality: concentration issues. Her special skill (alleged): playing the castanets. Future prospects: nothing in particular. It is good luck that her reliable younger sister is there to wake her up every morning.

But people like Yui are easy pickings for obscure clubs desperate for new members, like a certain light music club. 'Non-heavy music can't be bad, right?' That is apparently what is going through Yui's head as she signs on as a member. Or maybe it is 'They have cake!' Food is, after all, the easiest way to keep this girl's long-term interest.

However troublesome she might be to the people around her, though, Yui makes up for it with her big heart. In her own haphazard way, she protects her sister's happiness and shares her love with her fellow club members. She never hides her genuine feelings toward cake. And most importantly, she wastes no opportunity to shower her guitar with unrestrained affection.

It's a matter of opinion whether this girl is merely quirky or truly one of a kind. One thing is certain: there must be a reason why this loveable airhead gathered so many people by her side.


Past Notable Matches

ISML 2010 Regular Season: (14th Seed)
Sapphire 2: 2203-2230 to Fujibayashi Kyō (Clannad)

ISML 2010 Championship: (9th Place)
Preliminary Round: 2573-4337 to Akiyama Mio (K-ON!)
Loser Round 1: 3081-2952 over Fujibayashi Kyō (CLANNAD)
Loser Round 2: 2803-3385 to Aisaka Taiga (Toradora!)

ISML 2011 Regular Season: (19th Place)
Amethyst 6: 3340-3342 to Charlotte Dunois (IS <Infinite Stratos>)

ISML 2012 Regular Season: (11th Place)
Aquamarine 3: 3923-3849 over Oshino Shinobu (Bakemonogatari)
Topaz 7: 3659-3620 over Sengoku Nadeko (Bakemonogatari)

ISML 2013 Regular Season: (16th Place)
Amethyst 2: 3905-3818 over Konjiki no Yami (To LOVE-Ru)


Anime Saimoe Tournament 2009: (2nd Place)
Group Finals: 838-752 over Kushieda Minori (Toradora!)
Quarterfinals: 873-819 over Amae Koromo (Saki)
Semifinals: 1019-988 over Fukuji Mihoko (Saki)
Final: 1278-1332 to Aisaka Taiga (Toradora!)

Korea Best Moe 2010: (4th Place)
Round of 16: 1024-981 over Sengoku Nadeko (Bakemonogatari)
Quarterfinals: 1153-794 over Nakamura Yuri (Angel Beats!)
Semifinals: 1168-1397 to Tachibana Kanade (Angel Beats!)