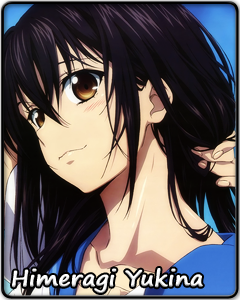 | | |
| --- | --- |
| Name: | Himeragi Yukina 「姫柊雪菜」 |
| Title Series: | Strike the Blood |
| Voiced by: | Taneda Risa |
Career ISML Performance
2014: 27th Place Nova Division. Record: (11-0-24)
2015: 34th Place Nova Division. Record: (4-0-31)

Moe Tournament Résumé
Round 2 - Best Girl Contest 2014
Round 2 - Japan Saimoe 2014
Round of 144 - Animefans Saimoe Tournament 2014
Round of 96 - Animefans Saimoe Tournament 2015
Round 1 - Best Girl Contest 2015

Life is not easy when you happen to be a powerful and near-invincible being. People want to keep a close eye on you. They send people to observe you. This, however, could turn out great if your observer just happens to be Himeragi Yukina.

Yukina was raised in a strict military environment with little connection to the outside world, and it is no wonder that she imagines all the everyday objects around her to be weapons of some sort. However, that naiveté turns into something else when she decides to live next door to the person she is to observe. They meet each other every day. They sit on the train to school every single day. They become friends… and more.

In the end, Yukina is not satisfied with being a mere observer. A woman of action, she chooses to take matters into her own hands whenever things go awry. With a wide arsenal of weapons and skills at her disposal, Yukina is a fearsome opponent in battle. And there is no hesitation in her when it comes to spilling her blood for her would-be target. Because it is not only his fight, nor is it only her fight. It is their fight.


Past Notable Matches

ISML 2014 Regular Season: (27th Place)
Amethyst 2: 2353-2494 to Chocolat (NōKome)
Ruby 1: 2127-2162 to Natsume Rin (Little Busters!)
Topaz 5: 1880-2001 to Yūki Mikan (To LOVE-Ru)

ISML 2015 Regular Season: (34th Place)
Aquamarine 5: 2469-2470 to Akame (Akame ga Kill!)
Ruby 7: 2972-3026 to Yazawa Nico (Love Live!)


Best Girl Contest 2014: (Round 2)
Round 2: 1607-2714 to Nagato Yuki (Suzumiya Haruhi no Yūutsu)

Japan Saimoe 2014: (Round 2)
Round 2: 87-77-314 over Inokuma Yōko (Kin-Iro Mosaic) & to Akemi Homura (Puella Magi Madoka ☆ Magica)

Animefans Saimoe Tournament 2014: (Round of 144)
Round of 144: (183 + 9)-(424 + 2)+(583 + 5) to Yui (Sword Art Online) & Azuki Azusa (Hentai Ōji to Warawanai Neko)

Animefans Saimoe Tournament 2015: (Round of 96)
Round of 96: 125-(454+34)-(213+1) to Hiradaira Chisaki (Nagi no Asukara) & Kushikawa Hatoko (Inō Battle wa Nichijō-kei no Naka de)

Best Girl Contest 2015: (Round 1)
Round 1: 1994-4943 to Yuas Emi (Hataraku Maō-sama!)