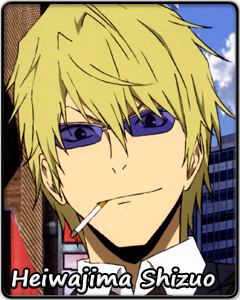 | | |
| --- | --- |
| Name: | Heiwajima Shizuo 「平和島 静雄」 |
| Title Series: | Durarara!! |
| Voiced by: | Ono Daisuke |
Career ISML Performance
2015:
2016:

Moe Tournament Résumé
2010: Animefans Saigar Tournament - 2nd Place
2010: Korean Super Best Moe- Quarterfinalist
2011: Animefans Saigar Tournament - 1st Place
2011: Korean Best Moe - Male Tournament - Quarterfinalist
2012: Korean Best Moe - Male Tournament - Quarterfinalist
2015: Best Guy Contest - Round of 32
2015: Bilibili Moe - Male Tournament - Round of 128
2015: Senpuu Saimoe Tournament - Male Tournament - Semifinalist
2016: Best Guy Contest - Round of 16

"Nobody loves me, because everyone is afraid of me. But now, I think I can finally accept and love myself…"

What is the face of violence? Ask any citizen of Ikebukuro and they will tell you that Shizuo, the infamous 'strongest man,' is the very personification of the term: a monster capable of lifting trucks, crushing street signs, throwing vending machines, and even punching one's clothes off. If you dare incur his wrath, you had better be ready to run.

Get to know Shizuo well enough, however, and you will learn that the man actually hates violence. He cannot control his anger, and his body moves on pure instinct, fueled by adrenaline and rage. By the end of his rampage, however, he will have come to regret his actions. He sees himself as nothing but a brute of mass destruction, an animal nobody will ever be capable of loving.

He hates himself.

And yet, behind the roars of Ikebukuro's strongest is a man with a heart of gold. A man who has the innocence and tastes of a child. A man who would stop at nothing to protect his friends and family. A man who strives to do his best at anything he does.

Shizuo takes one big gulp of milk, rolls up his sleeves, and smiles.

He wants to get stronger. Strong enough to control his anger.


Past Notable Matches