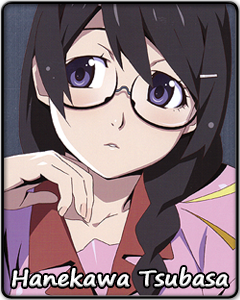 | | |
| --- | --- |
| Name: | Hanekawa Tsubasa |
| Title Series: | Monogatari Series |
| Voiced by: | Horie Yui |
Career ISML Performance
2016:

Moe Tournament Résumé
2010: Anime Saimoe Tournament - Round of 288
2010: Baidu Harem Moe - Round of 32
2010: Korean Best Moe - Round of 96
2012: Anime Saimoe Tournament - Round of 288
2012: Baidu Anime Saimoe Tournament - Round of 96
2012: Korean Best Moe - Round of 96
2013: Anime Saimoe Tournament - Round of 104
2013: Animefans Saimoe Tournament - Round of 96
2013: Baidu Anime Saimoe Tournament - Round of 96
2013: The Great Awwnime Bracket - Round of 64
2014: Anime Saimoe Tournament - Round of 192
2014: Animefans Saimoe Tournament - Round of 96
2014: Best Girl Contest - Round of 32
2014: Senpuu Saimoe Tournament - Round of 16
2015: Best Girl Contest - Round of 64
2016: Best Girl Contest - Round of 32

Beautiful. Bright. Buxom. Hanekawa Tsubasa has all the qualities to be the student everyone admires, but is that what she truly wants?

Life is not easy trying to have others believe she is not without flaws. After all, her life at home is nothing close to what others can consider normal. Molded by what society wants her to be, Tsubasa wishes nothing more than to break free of those chains of perfection. Yet, no matter how hard she tries, she remains one of the many to expect great things from.

Too much stress could unlock an inner beast inside her. This persona relishes freedom and does not think twice about breaking a few rules to get what she wants. Sly, mischievous, and free-spirited - these are the qualities that Tsubasa wanted to have, but was unable to because society has deemed those qualities ill-suited for her. This brings up the ultimate question: what is her true personality?

While there may be two sides to her, there are some things that never change. She has a way with words, is great at giving advice, and is still infatuated with someone who is already taken. No matter how many times people call her omniscient, she will respond with a simple phrase: she only knows what she knows.


Past Notable Matches