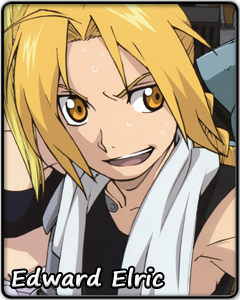 | | |
| --- | --- |
| Name: | Edward Elric 「エドワード・エルリック」 |
| Title Series: | Fullmetal Alchemist |
| Voiced by: | Romi Park |
Career ISML Performance
2011: 8th Place
2012: 12th Place
2013: 14th Place
2015: 8th Place League Finals
2016: 10th Place League Finals

Moe Tournament Résumé
2010: Animefans Saigar Tournament - Quarterfinalist
2010: Korean Best Moe - Male Tournament - Round of 64
2010: Korean Super Best Moe - Round of 64
2011: Animefans Saigar Tournament - Round of 16
2011: Korean Best Moe - Male Tournament - Quarterfinalist
2012: Animefans Saigar Tournament - 1st Place
2013: The Great Awwnime Bracket - Boys Bracket - Round of 32
2015: Best Guy Contest - Quarterfinalist
2016: Best Guy Contest - Quarterfinalist

To put it bluntly, Edward Elric can be too cocky for his own good. But he is also skilled enough in battle to make quick work of anyone underestimating his abilities. He is clever enough to trick those who believe they have the upper hand and use his surroundings to his advantage. Edward prefers psychological warfare and fighting at long distances over close combat, not because he is not strong enough to take down his opponents, but to avoid damaging his two prosthetic limbs. This is not so much a matter of tactics as it is his desperation to avoid the rage of his mechanic after the battle.

Behind the bright smile lies a boy eager to create the Philosopher's Stone, a mysterious object said to call forth powers beyond human comprehension. If the stories about this stone are true, and if one day Edward is successful in obtaining it, the first thing he would do is undo a horrible mistake from his past, one that cost him his two limbs and almost killed his brother.

Until that day comes, though, Edward will remain a protective brother, an irresponsible childhood friend, and a pain to his enemies. He will make sure that all those who make fun of his diminutive stature will never forget the name of the fullmetal alchemist.


Past Notable Matches

ISML 2011 Exhibition Period: (Quarterfinalist)
2011: Quarterfinals: 1842-2425 to Kinoshita Hideyoshi (Baka to Test to Shōkanjū)

ISML 2012 Exhibition Period: (Round of 16)
Round of 16: 2493-4286 to Kirigaya Kazuto (Sword Art Online)

ISML 2013 Exhibition Period: (Round of 16)
Round of 16: 3638-4887 to Katsuragi Keima (Kami Nomi zo Shiru Sekai)


Animefans Saigar Tournament 2010: (Quarterfinal)
Quarterfinal: 323-340 to Heiwaijima Shizuo (Durarara!!)

Animefans Saigar Tournament 2012: (Winner)
Final: 2434-2115 over Sakata Gintoki (Gintama)

The Great Awwnime Bracket 2013 Boys Bracket: (Round of 32)
Round of 32: 98-117 to Sakamoto (Nichijō)

Best Guy Contest 2015: (Quarterfinal)
Quarterfinal: 3105-3297 to Kamina (Tengen Toppa Gurren Lagann)