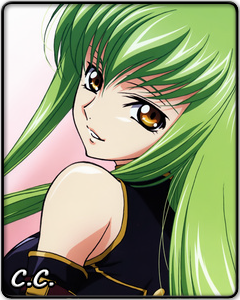 | | |
| --- | --- |
| Name: | C.C. 「C.C. (シーツー)」 ("C2") |
| Title Series: | Code Geass: Lelouch of the Rebellion |
| Voiced by: | Yukana |
Career ISML Performance
2008: 8th Place. Record: (49-2-0-12) / (2-2)
2009: 27th Place. Record: (38-0-0-25)
2010: 22nd Place. Record: (28-0-21)
2011: 33rd Place. Record: (18-0-31)
2012: 23rd Place Stella Division. Record: (13-0-22)
2013: 33rd Place Stella Division. Record: (6-0-29)

Moe Tournament Résumé
2007: Anime Saimoe Tournament - Round of 32
2007: Korean Best Moe - 7th Place
2007: Korean Super Best Moe - 12th Place
2008: Anime Saimoe Tournament - Round of 96
2008: Animefans Saimoe Tournament - Semifinalist
2008: Korean Best Moe - 17th Place
2008: Korean Super Best Moe - Round of 20
2009: Animefans Saimoe Tournament - 1st Place
2009: Baidu Harem Moe - Round of 12
2009: Korean Best Moe - 14th Place
2010: Baidu Harem Moe - Round of 16
2010: Korean Super Best Moe - Round of 128
2014: Best Girl Contest - Round of 32
2015: Baidu Nova Moe - Quarterfinalist
2015: Best Girl Contest - Round of 32
2016: Best Girl Contest - Round of 64

C.C easily attracts the eyes of men with her exquisite, but cold and detached beauty. It seems nothing could break through her indifference. She supports and she betrays, always with the same uncaring expression on her face. She has lived through enough to distance herself from her emotions.

But even for someone like her, there is something pushing her forward, a goal she absolutely has to achieve, even if it means making endless sacrifices along the way. Will what C.C strives for let her regain her smile? Or is it something else entirely? That is one of the many secrets she keeps to herself.

On rare occasions, C.C's troubled past catches up to her. There are decisions she regrets and people she could not help growing close to... Those are the few cracks in her impenetrable mask. In her moments of vulnerability, C.C reveals a more human side and shows her doubt about the path she has taken. But is there anything that could stop her? Fun, sensual pleasure, bonds, love?

Or is there someone who can save her from the darkness ahead?


Past Notable Matches

ISML 2008 Regular Season: (11th Seed)
Amethyst 7: 163-158 over Kinomoto Sakura (Cardcaptor Sakura)
Amethyst 9: 213-213 over Ryūgū Rena (Higurashi no Naku Koro ni), OT win
Sapphire 8: 303-293 over Asahina Mikuru (Suzumiya Haruhi no Yūutsu)
Ruby 2: 377-388 to Takamachi Nanoha (Mahō Shōjo Lyrical Nanoha)
Ruby 5: 257-248 over Kurata Sayuri (Kanon)
Ruby 6: 274-269 over Saber (Fate/stay night)
Ruby 8: 307-307 over Katsura Hinagiku (Hayate no Gotoku!), OT win
Diamond 5: 311-301 over Furude Rika (Higurashi no Naku Koro ni)

ISML 2009 Regular Season: (27th Place)
Topaz 6: 1326-1348 to Izumi Konata (Lucky☆Star)
Emerald 6: 1504-1500 over Kinomoto Sakura (Cardcaptor Sakura)

ISML 2010 Regular Season: (22nd Place)
Topaz 5: 2334-2321 over Maria (Hayate No Gotoku)
Sapphire 5: 2065-2069 to Furukawa Nagisa (CLANNAD)

ISML 2011 Regular Season: (33rd Place)
Sapphire 4: 3307-3327 to Kuroi Mato (Black★Rock Shooter)

ISML 2012 Regular Season: (23rd Place)
Ruby 5: 3519-3513 over Asahina Mikuru (Suzumiya Haruhi no Yūutsu)

ISML 2013 Regular Season: (33rd Place)
Amethyst 7: 3798-3768 over Hirasawa Ui (K-ON!)


Korean Best Moe 2007: (7th Place)
Round of 16: 1141-914 over Ayase Yue (Mahō Sensei Negima!)
Quarterfinals: 1139-1143 to Kōsaka Tamaki (To Heart)

Korean Super Best 06-07: (12th Place)
Round of 16: 1090-1123 to Teletha Testarossa (Full Metal Panic!)
ISML 2008 Championship: (8th Place)
Preliminary Round: 583-661 to Nagato Yuki (Suzumiya Haruhi no Yūutsu)
Loser Round of 16: 520-492 over Kawasumi Mai (Kanon)
Loser Round of 12: 771-626 over Fujibayashi Kyō (CLANNAD)
Loser Round of 8: 570-584 to Ichinose Kotomi (CLANNAD)

Korean Best Moe 2009: (14th Place)
Round of 16: 1227-1319 to Hiiragi Kagami (Lucky☆Star)