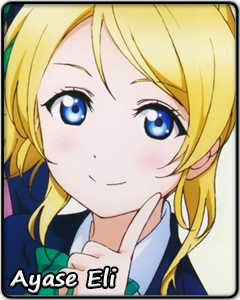 | | |
| --- | --- |
| Name: | Ayase Eli 「絢瀬 絵里」 |
| Title Series: | Love Live! |
| Voiced by: | Nanjō Yoshino |
Career ISML Performance
2015: 35th Place Nova Division. Record: (3-0-32)
2016:

Moe Tournament Résumé
2013: Anime Saimoe Tournament - Round of 104
2013: Baidu Anime Saimoe Tournament - Round of 384
2014: Anime Saimoe Tournament - Round of 64
2014: Baidu Nova Moe - Round of 16
2014: Best Girl Contest - Round of 512
2014: The Great Awwnime Bracket - Round of 256
2014: Yamibo Yuri Saimoe - 1st Place
2015: Baidu Anime Saimoe Tournament - Quarterfinalist
2015: Baidu Nova Moe - Round of 64
2015: Bilibili Moe - Quarterfinalist
2016: Best Girl Contest - Round of 512
2016: Hongkong Golden Saimoe - Round of 192
2016: Yamibo Yuri Saimoe - Finalist

Nothing less than perfection – the motto of Ayase Eli.

As a student council president with her school about to close down, Eli spares no effort in figuring out ways to make sure her school can continue to thrive for another year. Eli comes up with elaborate plans to highlight various aspects of her school, but when even fellow council members show no sign of interest in her ideas, Eli is forced to question her own methods. She followed all the necessary protocols, yet still did not win the hearts of her peers. What was she doing wrong?

When word begins to spread about a new school idol group aiming to help popularize the school, Eli immediately confronts the members, informing them that such a group is unnecessary and will not be approved by the student council. Eli believed that there is no way a group of girls who dance and sing for fun could contribute anything to the school's cause. But when Eli sees their determination and how serious they are about helping the school, Eli finds herself unable to keep the group out of her mind.

Eli is level-headed and hard-working, but has a tendency to shoulder all the burden by herself. When the same idol group she tried to break up actually asks Eli for cooperation on the way towards their mutual goal, will Eli be able to reach out her hand and find the path that she has long sought?

This is Ayase Eli - a student council president... and soon to be an idol.


Past Notable Matches

ISML 2015 Regular Season: (35th place)
Emerald 5: 2652-2703 to Yaya (Machine-Doll wa Kizutsukanai)
Topaz 3: 3674-3773 to Yatogami Tōka (Date A Live)


Best Girl Contest 2014: (Round 1)
Round 1: 871-2174 to Yatogami Tōka (Date A Live)

Great Awwnime Bracket 2014: (Round 1)
Round 1: 187-551 to Onodera Kosaki (Nisekoi)

Anime Saimoe Tournament 2014: (Group Finalist)
Group Finals: 114-192 to Alice Cartelet (Kin-iro Mosaic)

Baidu Nova Moe 2014 (Round of 16)
Round of 16: 8996-9622 to Hoshizora Rin (Love Live!)

Yamibo Yuri Saimoe 2014 (1st Place)
Round of 16: 290-92 over Hashiri Nio (Akuma no Riddle)
Quarterfinals: 223-180 over Nibutani Shinka (Chūnibyō Demo Koi ga Shitai!)
Semifinals: 212-155 over Shirai Kuroko (Toaru Majutsu no Index)
Final: 283-253 over Takei Hisa (Saki)