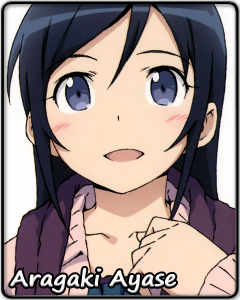 | | |
| --- | --- |
| Name: | Aragaki Ayase 「新垣あやせ」 |
| Title Series: | Ore no Imōto ga Konna ni Kawaii Wake ga Nai |
| Voiced by: | Hayami Saori |
Career ISML Performance
2011: 31st Place. Record: (19-0-30)
2012: 23rd Place Nova Division. Record: (14-0-21)
2013: 9th Place Stella Division. Record: (27-0-8)
2013: 6th Place League Finals
2014: 7th Place Stella Division. Record: (27-0-8)
2014: 4th Place League Finals
2015: 8th Place Stella Division. Record: (27-0-8)
2015: Sapphire Circlet
2015: 16th Place League Finals
2016: Round of 16

Moe Tournament Résumé
Round 2 - Japan Saimoe 2011
Round of 32 - Animefans Saimoe Tournament 2011
Round of 96 - Animefans Saimoe Tournament 2012
Round of 16 - Japan Saimoe 2013
Round of 16 - The Great Awwnime Bracket 2013
Quarterfinals - Animefans Saimoe Tournament 2014
Round of 32 - Baidu Anime Saimoe Tournament 2014
Semifinals - Hongkong Golden Saimoe 2014
Round of 32 - Baidu Harem Moe 2014
Round of 64 - Best Girl Contest 2014
Round of 64 - The Great Awwnime Bracket 2014
Round of 128 - Best Girl Contest 2015
2011: Anime Saimoe Tournament - Round of 96
2011: Animefans Saimoe Tournament - Round of 32
2012: Animefans Saimoe Tournament - Round of 96
2012: Baidu Harem Moe - Round of 64
2013: Anime Saimoe Tournament - Round of 16
2013: Baidu Anime Saimoe Tournament - Round of 96
2013: The Great Awwnime Bracket - Round of 16
2014: Animefans Saimoe Tournament - Quarterfinalist
2014: Baidu Anime Saimoe Tournament - Round of 32
2014: Baidu Harem Moe - Round of 32
2014: Best Girl Contest - Round of 64
2014: The Great Awwnime Bracket - Round of 64
2014: Hongkong Golden Saimoe - Semifinalist
2015: Baidu Harem Moe - Round of 64
2015: Best Girl Contest - Round of 128
2016: Best Girl Contest - Round of 128

Aragaki Ayase is the ideal of a girl her age: bright, beautiful, polite. No wonder a modeling company sought her out to have her work for them. She is also best friends with other equally perfect ladies her age.

This pristine image is not just something for others to see. Ayase treasures every aspect of her current life and spares no effort to protect it. She wants everything to be genuinely impeccable, a picture of perfection.

The thing is, not everyone understands how intent she is about maintaining her standards and how far she is willing to go to protect her wonderful life. She requires absolute honesty, for example, and being lied to is one of her berserker buttons. Trespassing against her code means getting instantaneously ejected form her circle of friends at best. The worst case scenario is not pretty.

But if you want to be friends with Ayase, all you need to do is behave, right?


Past Notable Matches

ISML 2011 Regular Season: (31st Place)
Aquamarine 7: 4538-4540 to Furukawa Nagisa (CLANNAD)

ISML 2013 Regular Season: (9th Seed)
Amethyst 5: 4141-4305 to Shana (Shakugan no Shana)
Ruby 1: 4199-4119 over Yui-nyan (Angel Beats!)

ISML 2013 Championship: (6th Place)
Round of 16: 5614-4643 over Takanashi Rikka (Chūnibyō demo Koi ga Shitai!)
Quarterfinals: 5863-6151 to Misaka Mikoto (Toaru Majutsu no Index)

ISML 2014 Regular Season (7th Place)
Ruby 4: 2378-2344 over Nakano Azusa (K-ON!)
Ruby 6: 2771-2738 over Shana (Shakugan no Shana)
Emerald 6: 2470-2305 over Aisaka Taiga (Toradora!)

ISML 2014 Championship (4th Place)
Round of 16: 3632-2983 over Tokisaki Kurumi (Date A Live)
Quarterfinals: 4031-4005 over Yoshino (Date A Live)
Semifinals: 2581-3727 to Shiina Mashiro (Sakura-so no Pet na Kanojo)

ISML 2015 Regular Season: (8th Seed)
Amethyst 7: 3622-3506 over Aoyama Nanami (Sakura-so no Pet na Kanojo)
Emerald 3: 2888-2792 over Yuki Mikan (To LOVE-Ru)
Topaz 2: 2761-2871 to Kashiwazaki Sena (Boku wa Tomodachi ga Sukunai)
Topaz 3: 3030-3111 to Suzumiya Haruhi (Suzumiya Haruhi no Yuutsu)

ISML 2015 Championship: (16th Place)
Round of 16: 2655-3476 to Kirisaki Chitoge (Nisekoi)


Japan Saimoe 2011: (Round 2)
Round 2: 201-104-277 over Sakurai Rihoko (Amagami SS) & to Akechi Kokoro (Tantei Opera Milky Holmes)

Animefans Saimoe Tournament 2011: (Round of 32)
Round of 32: 213-284 to Fate Testarossa (Maho Shojo Lyrical Nanoha)

Animefans Saimoe Tournament 2012: (Round of 96)
Round of 96: (226+1)-430-(252+2) to Tosaka Rin (Fate/stay night) & Sakura Kyoko (Puella Magi Madoka Magica)

Japan Saimoe 2013: (Round of 16)
Group Final: 305-234 over Nishizumi Miho (Girls und Panzer)
Round of 16: 145-272 to Kaname Madoka (Puella Magi Madoka ☆ Magica)

The Great Awwnime Bracket 2013: (Round of 16)
Round of 16: 1063-1185 to Makise Kurisu (Steins; Gate)

Animefans Saimoe Tournament 2014: (Quarterfinals)
Quarterfinals - (199 + 47)-(320 + 96) to Yukinoshita Yukino (OreGairu)

Hongkong Golden Saimoe 2014: (Semifinals)
Round of 16: 21-17 over Nibutani Shinka (Chunibyo demo Koi ga Shitai!)
Quarterfinals: 162-158 over Yuki Mikan (To LOVE-Ru)
Semifinals: 130-203 to Chitanda Eru (Hyoka)

Best Girl Contest 2014: (Round of 64)
Round of 64: 2887-3842 to Misaka Mikoto (Toaru Majutsu no Index)

The Great Awwnime Bracket 2014: (Round of 64)
Round of 64: 327-346 to Shiina Mashiro (Sakura-so no Pet na Kanojo)

Best Girl Contest 2015: (Round of 128)
Round of 128: 3315-4268 to Kosaka Reina (Hikibe! Euphonium)